Monster on the Campus
(1958)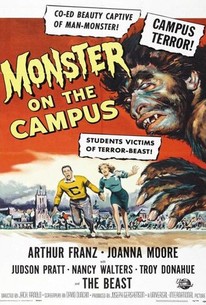 AUDIENCE SCORE
Critic Consensus: No consensus yet.
Monster on the Campus Photos
Movie Info
A scientist falls victim to a strange, contagious force that causes creatures to regress down the evolutionary ladder to their primal states. This bloody sci-fi thriller depicts the carnage that results as the once mild-mannered professor transforms into a murderous Neanderthal.
News & Interviews for Monster on the Campus
Critic Reviews for Monster on the Campus
All Critics (3) | Fresh (2) | Rotten (1)
So-bad-it's-good monster mash ... a hoot.
July 22, 2005 | Rating: 1/5
Agreeably silly Jekyll and Hyde yarn with great hokey monster.
November 5, 2003 | Rating: 3/5
Audience Reviews for Monster on the Campus
Ah yes! The good old days when Sci-Fi was simple. All you needed was a little radiation and most anything was possible. This movie was one of the last 50's Sci-Fi movies from Universal coming out in 1959-same year I did. Audiences then were not as sophisticated as they are now and quicker to give a movie the benefit of the doubt. This was the day of the Drive-In movie. Anyone my age or older should enjoy the simplicity of this film and the nostalgic quality of it. Good solid performances by Arthur Franz and especially Joanna Moore (whom would later become notable as one of Andy Taylor's girlfriends on TV). Plenty of the good old character actors from Universal's other Sci-Fi films give it a familiar feel. This movie doesn't ask you to think too much; when I was a kid watching Shock Theatre on a Saturday afternoon I didn't want to. Sure, the make-up could have been much better but from a distance the monster is quite scary.You don't have to look close to find a few blunders: lace-up shoe or loafer? You'll hear music from practically all of Universal's Sci-Fi and horrors movies: Tarantula, Frankenstein, the Mummy movies.This movie is probably not very entertaining to the younger generations of viewers other than finding it quite campy. How far we've come as an audience. But this movie tries hard and with its budget I've got to give it credit. It holds a warm spot in my heart and a solid place in my video library. 5 Stars 10-10-13
Bruce Bruce
Super Reviewer
Oh no, there's a monster on the campus? Wait, that's just a fish. I hated this movie, I couldn't even watch it all.
The discovery of a "prehistoric fish" in the waters off the coast of Madagascar proved to be enough fodder to inspire this obscure b-movie. Apparently, any contact with the fish's blood will force a creature to genetically alter itself back to it's evolutionary roots. A dog, for example, will revert back to a primitive wolf after ingesting the blood of the fish. A man, should he come in contact with prehistoric fish fluids, will transform into a murderous caveman who will kill attractive female lab assistants and hang them by their hair in trees because, as we all know, that's what cavemen do.
Randy Tippy
Super Reviewer
Monster on the Campus Quotes
There are no approved quotes yet for this movie.