The Monster Squad
(1987)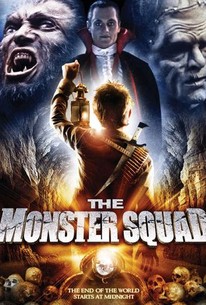 TOMATOMETER
AUDIENCE SCORE
Critic Consensus: A fun '80s adventure with a slightly scary twist, The Monster Squad offers tween-friendly horror with just enough of a kick.
Movie Info
A quintet of classic movie monsters invades a small town looking for a lost amulet that will help them rule the world. A bunch of kids decide to fight back by forming the "Monster Squad."
News & Interviews for The Monster Squad
Critic Reviews for The Monster Squad
Audience Reviews for The Monster Squad
½
Prior to the 1980s the classical Universal monsters hadn't appeared in any color films or all together in one film for over 40 years, so when they did a film like the goonies but with the universal monsters, you can bet that it was awesome. The effects are top notch in the film, the acting is great, the comedy is great, and it has some very good characters. By all definition this is one of the quintessential films to watch on Halloween, because it has everything that you would want in a Halloween film, Comedy, Good effects, Horror, Monsters, Shootouts, supernatural beings, it has something for everyone.
Michael Edwards
Super Reviewer
Bunch of savvy kids that have their own secret club, a neat treehouse base and end up on a spooky adventure trying to stop supernatural forces...you could say this has a 'Goonie' influence. Hell the young boys even have a fat kid amongst their ranks and he wears loud brightly coloured shirts too. The plot is hammy as hell but it is suppose to be a homage and twist on the classic B-movie horror genre and of course Universal horror monsters. Putting all the big name supernatural beings together and sticking them in the 80's (present day back then). All the classic monsters including Dracula, Frankenstein's monster, Gill-man, the Wolf Man and The Mummy teaming up to try and take over the world with a supernatural amulet, only the kids can stop them. The only way they can be stopped is to open a portal into limbo and kick them through...this whole idea visually looks identical to the portal sequences in the 'Evil Dead' franchise. So the whole thing is really cheesy and silly as it is suppose to be a kids flick, but it is?? There is actually some quite edgy scenes in the film with visible blood and body parts! when Wolf Man gets blown into pieces for example, nothing much hidden. Some scenes are also a bit scary for the younger viewer in my opinion. Again Wolf Man attacking people and transforming in classic 'American Werewolf' style, stakes through various hearts with blood, Dracula trying to actually kill the kids and the makeup doesn't skimp with realism. The monsters all look as they should in classic style but they certainly aren't tame by any means. Wolf Man has a much wilder vicious look which is pretty scary, Gill-man is the best if you ask me, he looks terrific, whilst Frankie is as expected as is The Mummy. Its only Dracula who doesn't really thrill, the casting seems a bit off to me, the guy in the role just doesn't look right, he's too young and 'modern' looking if you get me. There are also Dracula's vampiresses who look as you would expect but they have no purpose in the film, kinda under used idea really, clearly crammed in. Naturally there are plot issues a plenty which don't really matter but they do stick out. Why exactly does Dracula have Frankie in the first place?. Where did Dracula get that big black slick custom hearse?? he's only been in the US about one day! and how did he get a hold of that big mansion? is it his?? The most obvious to me was why exactly Gill-man, The Wolf Man and The Mummy all joined Dracula in the first place, they all just appeared and teamed up. So before hand what exactly did Gill-man do? he just like...lived in the swamp? how did he and The Mummy know Dracula had arrived in the region? I'm guessing it was his supernatural powers. None of the monsters have any real backstory, it all just happens. The silliest of all was in the finale when Van Helsing appears from the portal to drag Dracula through it. But if Helsing was in limbo how did he get out to do that? and wouldn't he wanna try and stay in the real world once getting out?! I'm pretty sure it wasn't easy. Its certainly a strange beast this film, its hardly for kids with the blood, monsters and Dracula going around snapping cops necks, yet it is aimed at kids with the young Goonie-esque line up. The young cast are good but the whole time you can't help but think they really wanted Corey Feldman, Haim and Astin in the main roles. Pretty much cast everyone from 'The Goonies' in this and while you're at it call it 'Goonies 2'. End of the day the film was just an excuse to bring back all the classic B-movie monsters and have them looking top dollar with modern makeup (for the time of course). And it works plain and simple, the plot is daft with many holes but it doesn't really matter, its a flick for ghoulish monster lovers with a touch of Indy adventure for good measure.
Phil Hubbs
Super Reviewer
½
Fred Dekker who previously directed Night of the Creeps delivers yet another slap of original horror with The Monster Squad. Dekker crafts a fun, and entertaining picture that will surly delight the most demanding genre fan. Although not on par with Dekker's previous work, this is still an enjoyable film that has a great cast and a fun story that is entertaining from start to finish. Some people have said this was a horror comedy version of The Goonies, but I think it's quite different. The Monster Squad has its flaws, but it works well enough to keep you interested. The cast do a good job with the material, and they keep it engaging and fun despite occasionally being imperfect. This is a pretty good idea for a horror comedy, and it is among the best of the genre. Fred Dekker crafts a worthy follow up that is funny and bizarre, but constantly riveting despite its imperfections. The monsters are wicked, the effects are well done, and the characters are likeable. If you love these types of films, then you'll surely enjoy it. The story itself is what keeps you involved in the film, and the result is a fun movie that will certainly delight genre fans. I don't see why this one got so much flack as it is an original gem of a horror comedy that has plenty of memorable moments for its short run time. Sure there co0uld have been changes in a few areas, but overall this is a worthwhile film that demands to be seen if you enjoy horror comedies. Fred Dekker has made a fun and whimsical picture that delivers unique thrills. Sadly, this would be his last great movie as he would go on to helm the third part in the Robocop trilogy, which is horrible film, and Dekker would never stand behind a camera again. Who knows how many other horror gems he could have made.
The Monster Squad Quotes
| | |
| --- | --- |
| Army General: | Can somebody tell me what in the Sam hill is going on here?! |
| Sean: | Well, we can sir. |
| Army General: | Who are you? |
| Sean: | ...We're the Monster Squad! |
| Sean: | We're the Monster Squad! |
| | |
| --- | --- |
| Sean: | Kick him in the nards! Kick him in the nards! |