Monster's Ball
(2002)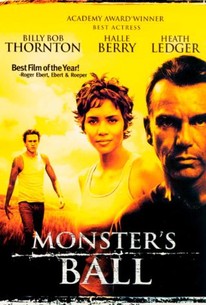 Movie Info
Director Marc Forster, winner of Best Feature at Slamdance for his debut film Loungers (1996) and the "Someone to Watch" Independent Spirit Award for his indie drama Everything Put Together (2000), follows up those acclaimed projects with this intense, racially charged romance. Billy Bob Thornton stars as Georgia prison guard Hank Grotowski, a hard-drinking racist ex-cop whose father, Buck (Peter Boyle), is dying of emphysema and whose son, Sonny (Heath Ledger), works the execution detail at the prison's death row. When Sonny commits suicide, Hank is devastated and quits his job, spiraling into a deep depression until, one night, he comes to the aid of Leticia (Halle Berry), a beautiful African-American woman whose son, Tyrell (Coronji Calhoun), has been hit by a car. When Tyrell dies, Leticia and Hank find themselves to be unexpected soul mates linked together by tragic grief. It's not long before Hank discovers that Leticia is the widow of Lawrence Musgrove (Sean Combs), the man whose execution by electric chair he and his late son helped to orchestrate. Monster's Ball (2001) is based on a screenplay by actors Milo Addica and Will Rokos, who spent five years developing their script into a feature. Their title refers to the name of an English tradition requiring jailers to throw a party for a condemned man on the night before his death. ~ Karl Williams, Rovi
News & Interviews for Monster's Ball
Critic Reviews for Monster's Ball
Audience Reviews for Monster's Ball
Not for everyone, this work requires thought and involvement, leaving those desirous of spoon-feeding disappointed. Excellent performances highlight this serious film that questions our propensity to simplify, to label things, situations, and especially people (including ourselves) in order to 'quickly understand' problems. Eye-opening and unforgettable.
Kevin M. Williams
Super Reviewer
This serious character study nor the performances managed to keep me engaged. Found it utterly boring & frustratingly slow. Not sure if I'll ever grow up enough to be able to appreciate such works if at all they deserve it.
familiar stranger
Super Reviewer
Halle Berry's Oscar win for this one was well-deserved and more. The film itself is heart-wrenching for me. It is through loss and grieve that these two main characters find each other. Both of them are so beautifully tragic and so brilliantly interpreted by these two great actors. Quite somber but a must-see.
Monster's Ball Quotes
| | |
| --- | --- |
| Hank Grotowski: | "I think we're going to be alright." |
| Hank Grotowski: | I think we're going to be alright. |
| | |
| --- | --- |
| Sonny Grotowski: | You hate me. Answer me! You hate me don't you?! |
| Hank Grotowski: | Yes, I hate you. I always did. |
| Sonny Grotowski: | Well I always loved you. [shoots himself] |
| | |
| --- | --- |
| Lawrence Musgrove: | I've always believed that a portrait captures a person far better than a photograph. It truly takes a human being to really see a human being. |