Monsters University
(2013)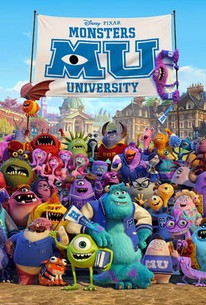 TOMATOMETER
AUDIENCE SCORE
Critic Consensus: Offering Monsters, Inc. fans a return visit with beloved characters, Monsters University delivers funny and thoughtful family entertainment for viewers of any age.
Monsters University Videos
Monsters University Photos
Movie Info
Mike Wazowski and James P. Sullivan are an inseparable pair, but that wasn't always the case. From the moment these two mismatched monsters met they couldn't stand each other. "Monsters University" unlocks the door to how Mike and Sulley overcame their differences and became the best of friends. -- (C) Walt Disney
Critic Reviews for Monsters University
Audience Reviews for Monsters University
½
A really thrilling prequel, always funny and exciting, that takes the clichéd premise of overcoming our own limits and turns it into endless fun - and it will leave you sure that Pixar is finally back on track after its two previous weak, forgettable entries.
Carlos Magalhães
Super Reviewer
A vaguely amusing sequel!
Film Crazy
Super Reviewer
The boys are back in town only its not a sequel but a prequel and we gonna see how Mike and Sulley became friends. Yep its back to school for this next adventure into the world of scaring. Mike is off to Monsters University to become a scarer, only problem is he's not very scary, but he's book smart, so he learns all he can on the art of scaring. Sulley is a bit of a jock and thanks to his privileged family background he has a good reputation and following. He's a good scarer and indeed scary but not so book smart, so in essence these guys need each other. Even more so after getting kicked off the scaring programme they must both work together with a team of nerds to win the scare games and get back into the scare programme (the word 'scare' is used by the bucket load in this). My initial thoughts on this were skeptical I admit, another prequel which seems to be the trend these days, why not a straight forward sequel. These thoughts were virtually obliterated as Mike jumps off the bus and enters into the Uni. Do I really need to talk about visuals here? one word...awesome! these animated films just get better and better. Everything just looks so damn real! the slimy monsters look slimy, the furry ones look perfectly furry, everything has such a solid realistic sense and weight about them its fantastic. The colours are bright, bold, vivid and gosh darn beautiful. On top of that the detail here is astounding, everywhere you look in each frame or scene there is something going on. Of course being set within a school there is plenty to create, plenty of visual gags, homages, in-jokes, parodies etc...the possibilities are pretty endless and sure enough its all covered here. Yeah sure a lot of it is cheesy and cliched, we've seen many of these high school-like pranks and party scenarios with jocks and dweebs before, its an old concept, but it all looks good enough to eat. Its actually pretty cool to see a very young Mike Wazowski, he looks so adorable, I really felt sorry for the little guy when he gets pushed around. Once he's grown up a bit and voiced by Crystal that cuteness falls by the wayside but never mind. I really liked all the other characters in the school, it must have been hard to create so many unique looking creatures, there are some that look a bit lame, a bit similar, a bit Dino-esque but in general a nice selection. The middle aged textile salesman monster Don Carlton was a great little creation although he does look somewhat like Mario. I really did like some of the fraternity monsters especially, the monster that looked like an eagle with horns and his mohawk/mullet-like hair. I also liked how they came up with stereotypical types of monsters which parody reality...the goth/emo kids, the girly cheerleader types, the porky kids, the poindexters etc...I REALLY liked the brief appearance of the scream can design teacher, like an overly hairy Muppet. It was also cool to see Randall back as for some reason I didn't expect to see this guy. So not only do we get to see how Mike and Sulley become friends we also see how Randall comes to hate Sulley. The scare games predictably do go the way you know they're gonna go, but the finale scaredown is cool and fun to watch. What I liked is the actual ending to the film doesn't play out as you'd expect, there is a little twist and the good guys don't totally win in every way you'd expect them too...which is cool. There are absolutely tonnes of good morals, good values and good lessons to be learnt in this film, a great motivational spirit lifter for all ages (especially the younger gen of course). Maybe a little bit more for the kids this time but still thoroughly entertaining, the perfect underdog story, or should that be undermonster? zing!
Phil Hubbs
Super Reviewer
Monsters University Quotes
| | |
| --- | --- |
| Young Mike: | I found a nickel! Sure wish I had pockets. |
| | |
| --- | --- |
| Terry: | Hi. I'm Terry with a Y... |
| Terri: | And I'm Terri with an I! I'm a dance major! |
| Terry: | And I'm not. |
| | |
| --- | --- |
| Squishy: | My names Scott Squibbles, my friends call me Squishy. |
| Squishy: | My names Scott Squibbles. My friends call me Squishy. |
| | |
| --- | --- |
| Squishy: | Good luck girls. |
| PNK Carrie: | Thanks! Were gonna rip you to peices. |
| PNK Carrie: | Thanks! Were gonna rip you to pieces. |