R.L. Stine's Monsterville: Cabinet of Souls
(2015)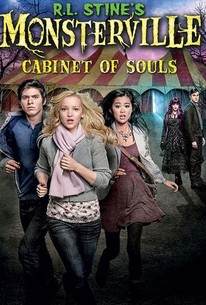 AUDIENCE SCORE
Critic Consensus: No consensus yet.
R.L. Stine's Monsterville: Cabinet of Souls Photos
Movie Info
Four teens discover a hidden door inside a travelling haunted house show, and must escape before their souls are forever trapped in the mysterious cabinet. This brand new adventure comes from famed young-adult horror writer R.L. Stine.
Critic Reviews for R.L. Stine's Monsterville: Cabinet of Souls
All Critics (2) | Fresh (1) | Rotten (1)
"Cabinet of Souls" is mainly an excuse to trot out Disney talent, and to arouse a scare or two. I wouldn't call it a masterpiece, but it will surely entertain its target audience.
Audience Reviews for R.L. Stine's Monsterville: Cabinet of Souls
Don't even bother to ask why I watched this. Just don't bother. But, of course, with a film such as this it's not like you can really expect something on the level of The Babadook or It Follows. This, at best, is a Disney TV movie meant for a pre-teen crowd. You can't expect much in the way of quality. That's not meant to necessarily excuse the film from doing something good, it's just that they realize that their audience simply doesn't demand as much as more serious film geeks, for example. That's no excuse for shitty storytelling, but it gives an explanation behind it. This was honestly a really lame movie, and not a particularly good one, but it's pretty much harmless for teens, but there's just not much of anything going here at all. Though, I will say this, this film is kinda fun to watch if you just wanna make fun of it, which is, essentially, what I did. It offers nothing that you wouldn't see in a Disney TV movie, but it's so goofy, stupid and vanilla that you're almost entertained by its badness. Though, I will be fair, and say that this movie isn't nearly as bad as one would expect. Just because something is clearly pandering to a particular demographic, that happens to be considerably younger than I am, doesn't mean that this film is inherently terrible. It's not what I would call good, but the film was certainly well-structured, in that you knew what was going on and why it was happening. There's plot holes, but what fucking movie doesn't have plot holes? It's just a bad Disney TV movie. But it's not an actively terrible film that makes you pull your hair out with how bad it is. It just doesn't really do much of anything, it's kind of lazy and silly. There's potential here though, like Dove Cameron is actually a pretty good actress. You don't get to see much of it here, in that you can't tell what she can really do if given a role with some actual depth, but she's fairly solid in this film. None of the other actors really did anything for me and they're probably the sort that'll spend their early 20s appearing in these sorts of TV movies for teens. Maybe that's too harsh on me, considering that this is the first film I've seen a lot of these actors in, but they didn't show much of anything to make me think they could have a successful career outside of these types of films. But I digress, this isn't a very good movie, but it's not horrifically bad or anything. It's just a pre-teen TV movie that just so happens isn't good. It doesn't offend or make me want to puke because how bad it is. It's just lazy in its execution and presentation. Not recommended.
Jesse Ortega
Super Reviewer
R.L. Stine's Monsterville: Cabinet of Souls Quotes
There are no approved quotes yet for this movie.