A Month by the Lake
(1995)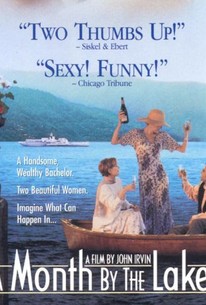 Movie Info
This romantic comedy is set upon Italy's beautiful Lake Como just before WW II erupted in Europe. British, middle-aged, but still-attractive Miss Bentley has come to the lake to visit the family resort. She has not been there since her father died and since her 14-year relationship with a married man broke up. The place has changed since she was there last and there is only one other Britisher there, the single, handsome Major Winslow, a wealthy industrialist. He and she engage in a few rounds of tennis, and begin a tentative romance that is interrupted when flirtatious American-upstart Miss Beaumont shows up and begins toying catlike, with the affections of the vulnerable major. Meanwhile, Miss Bentley finds herself dallying with a handsome young Italian.
Critic Reviews for A Month by the Lake
Audience Reviews for A Month by the Lake
Beautiful scenery and a bewitching Vanessa Redgrave make this a lovely viewing experience, Uma is out of her depth here.
A Month by the Lake Quotes
There are no approved quotes yet for this movie.