Moon
(2009)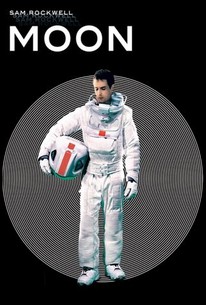 TOMATOMETER
AUDIENCE SCORE
Critic Consensus: Boosted by Sam Rockwell's intense performance, Moon is a compelling work of science-fiction, and a promising debut from director Duncan Jones.
Movie Info
An astronaut miner extracting the precious moon gas that promises to reverse the Earth's energy crisis nears the end of his three-year contract, and makes an ominous discovery in this psychological sci-fi film starring Sam Rockwell and Kevin Spacey. For three long years, Sam Bell has dutifully harvested Helium 3 for Lunar, a company that claims it holds the key to solving humankind's energy crisis. As Sam's contract comes to an end, the lonely astronaut looks forward to returning to his wife and daughter down on Earth, where he will retire early and attempt to make up for lost time. His work on the Selene moon base has been enlightening -- the solitude helping him to reflect on the past and overcome some serious anger issues -- but the isolation is starting to make Sam uneasy. With only two weeks to go before he begins his journey back to Earth, Sam starts feeling strange: he's having inexplicable visions, and hearing impossible sounds. Then, when a routine extraction goes horribly awry, it becomes apparent that Lunar hasn't been entirely straightforward with Sam about their plans for replacing him. The new recruit seems strangely familiar, and before Sam returns to Earth, he will grapple with the realization that the life he has created may not be entirely his own. Up there, hundreds of thousands of miles from home, it appears that Sam's contract isn't the only thing about to expire. ~ Jason Buchanan, Rovi
Audience Reviews for Moon
½
Decent. Not a favourite genre, but it had a decent amount of suspense, though a little slow to get there, and the lead actor is a little uncharismatic.
Nicki Marie
Super Reviewer
½
Simple, tense, and wonderful. Sam Rockwell is kind of the man. So is Kevin Spacey's voice.
Jason Robinson
Super Reviewer
½
Being the son of legendary musician David Bowie must put a lot of pressure on you, especially if your chosen profession is also to entertain. However, this is a pressure that director Duncan Jones seems to relish. His talents are used in a different medium from his father but equally as impressive with this relatively low-budget debut and he produces one of the finest science fiction film's for quite some time. Lone astronaut Sam Bell (Rockwell) is nearing the end of a three year service harvesting the Moon for much needed resources to keep Earth functioning. While carrying out his duties, he is involved in a collision resulting in a serious concussion. Upon wakening, he realises that things are not as they seemed during his years of isolation and that heâ(TM)s not been alone either. While having some obvious comparisons to â2001: A Space Odysseyâ? in terms of it's onboard computer Gerty (voiced by Kevin Spacey) resembling HAL- and a similiar structurely directing approach to Stanley Kubrickâ(TM)s, thatâ(TM)s where the comparisons end. The themes of isolation and loneliness have more in common with Steven Soderberghâ(TM)s tormented âSolarisâ? or the existential pondering and exploration of individuality and memories echo the work of Ridley Scott's âBlade Runnerâ?. Being a fan of both of those, I found "Moon" to be very appealing indeed. In a time where science fiction, seems intent on throwing as much money on the screen as possible, it's refreshing to see one that works on it's simple, yet very effective, concept rather than smooth over the cracks with excessive special effects. It's through this that real talent is allowed the room to develop and that opportunity is seized by an outstanding Sam Rockwell. In a year that Awards pretty much had Jeff Bridgesâ(TM) name already engraved on them for "Crazy Heart", Rockwellâ(TM)s performance here was shamefully overlooked. He at least deserved a nomination. By now, everyone is aware of this great actors talents but Jones gives him the chance to really show his range in multiple roles and without his sublime and commanding work, this film might not have worked as well as it does. However, it does work and very well at that. Jones has a good handle on the thought provoking material and shows a restraint beyond his years, while the subtlety of Rockwell's performance brings out the spiritual and intellectual struggle of his character(s). Gary Shaw's sublime cinematography does not go unnoticed either. He perfectly captures the claustrophobic environment which only serves to heighten a foreboding sense of paranoia and Clint Mansellâ(TM)s excellent use of music is eerily atmospheric by simply using basic piano notes. Not only on modern terms, "Moon" can hold it's own with some the best that science fiction has to offer and just goes to show that a basic concept, a basic structure and a minimal cast can culminate into something quite special. This cemented an already talented actorâ(TM)s reputation and heralded the arrival of a promising new director. With the impressive "Source Code" already in the bag and the forthcoming "World of Warcraft", Jones is certainly one for the watching. Heâ(TM)s a director that already shows confidence in himself and wonâ(TM)t be rushed into telling his story, making it all the more satisfying for a contemporary audience that's been slapped around the head with too many Michael Bay movies. Mark Walker
Mark Walker
Super Reviewer
Moon Quotes
| | |
| --- | --- |
| Sam Bell: | I've set your computer to reboot the second I've blasted off. |
| Sam Bell: | I've set your computer to reboot the second I've blasted off. |
| Gerty: | Okay, Sam. |
| Sam Bell: | Thanks for all your help, Gerty. I wish I could say I was going to miss you, buddy, but to be honest, I can't wait to get away from here. |
| Sam Bell: | Thanks for all your help, Gerty. I wish I could say I was going to miss you, buddy, but to be honest, I can't wait to get away from here. |
| Gerty: | I understand, Sam. I hope life is everything you remember it to be. |
| Gerty: | I understand, Sam. I hope life is everything you remember it to be. |
| Sam Bell: | Thanks. Are you |
| Sam Bell: | Thanks. Are you |