Moon 44
(1990)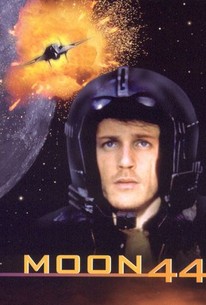 Movie Info
In the 21st century, an intergalactic mining corporation sends a group of prisoners to help defend a remote outpost from takeover by another, more ruthless company. This science fiction thriller, which centers on the battle for ownership that follows, was filmed in Germany.
Critic Reviews for Moon 44
Audience Reviews for Moon 44
½
One of the most confusing, unappealing sci-fi films I've ever seen. In this early Roland Emmerich disaster, super-badass-chainsmoker 'Felix Stone' takes a quick twenty minute jaunt through the Blade Runner set (music and all) and then proceeds to a mining station in space where a group of ex-cons-turned pilots and a bunch of teenage boy navigators reenact scenes from 'Sleepers' and 'Top Gun' while they wait (apparently) for some sort of invasion from a rival mining corporation, in what amounts to THE ALAMO: IN SPACE! Emmerich's early script writing philosophy; the cut and paste method. If he likes, it goes in!... no matter how badly juxtaposed against the preceding or following scene! Lighthearted fun followed by a teenage boy's suicide? Intense action packed dogfight following a teenage boy's alluded shower rape? Sure! Fortunately Mr. Emmerich was able to sort out his vision for the perfect summer blockbuster by the time of Independence Day... Good for us.
Brett Warren
Super Reviewer
Pointless low budget Sci-Fi with lifeless performances and a plot reminiscent of but simpler than a mid 1980s arcade game. It does have a certain oppressive atmosphere but little else.
The Shrewlord
Super Reviewer
Moon 44 Quotes
There are no approved quotes yet for this movie.