Moonlight Mile
(2002)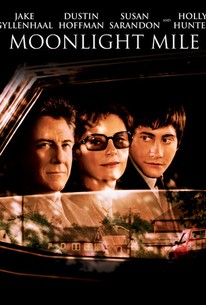 Movie Info
A family attempts to deal with the emotional impact of an unexpected loss in this emotional drama set in the early 1970s. Diana Floss (Careena Melia) is a woman in her early twenties who is only days away from marrying her boyfriend, Joe Nast (Jake Gyllenhaal), to the delight of her parents, Ben and Jo Jo (Dustin Hoffman and Susan Sarandon). However, Diana finds herself in the wrong place at the wrong time when an altercation breaks out in a diner, and she's murdered for no good reason. Ben and Jo Jo are devastated, and they both turn to Joe for comfort, treating him as a member of the family, with Ben offering him a job at his real estate firm and Jo Jo grateful for his company, despite her unflappable surface. Joe also finds himself needing comfort, and he becomes involved with Bertie (Ellen Pompeo), a woman who waits tables at a local watering hole owned by her boyfriend, who has been listed as Missing in Action in Vietnam for the past three years. However, as the wheels of justice slowly turn and the Floss' lawyer, Mona Camp (Holly Hunter), prepares Ben and Jo Jo for the upcoming murder trial, Joe is tortured by a guilty secret -- he and Diana had a falling out, and planned to call off the wedding shortly before her unexpected death. Moonlight Mile was written and directed by Brad Silberling, who has had his own experiences with death and grieving to draw from -- he was dating actress Rebecca Schaeffer when she was murdered by a stalker in 1989.
Critic Reviews for Moonlight Mile
Audience Reviews for Moonlight Mile
Really a great movie in every respect. A very distinct visual style, unique story and an a perfect cast. The 70s atmosphere somehow fits perfectly into the plot, maybe because Jake Gyllenhaal's character emulates the generation almost exactly. The sense of loss is done well, it's not like every other movie where someone dies. This shows the true awkwardness that comes along with a funeral service, false attachment and mixed emotions. Dustin Hoffman and Susan Sarandon play pretty different characters than they're used to, there's a very weak and childish way in how they act. This is a movie that is very particular in its message and it succeeds completely. It becomes such a powerful experience by the end.
Conner Rainwater
Super Reviewer
Heartbreaking, but beautiful. The film was honest and real and really pulls you in at the heartstrings. I liked it... Great cast, great music, and great story.
Leigh Ryan
Super Reviewer
Cast: Jake Gyllenhaal, Dustin Hoffman, Susan Sarandon, Ellen Pompeo, Holly Hunter, Dabney Coleman, Aleksia Landeau, Careena Melia, Mary Ellen Trainor, Lev Friedman, Bob Clendenin, Jim Fyfe, Richard Fancy, Marcia Mitzman Gaven, Allan Corduner Directed by: Brad Silberling Summary: Susan Sarandon and Dustin Hoffman co-star as the grieving mother and father of a recently deceased girl who take in their daughter's fiancé (Jake Gyllenhaal) because he's the only living connection they have to their only child. Problems arise when the young man falls in love with a woman (Ellen Pompeo) whose boyfriend has gone missing, prompting his former in-laws-to-be to come to grips with the new relationship. My Thoughts: "The story pulled me in almost instantly. Great job by Gyllenhaal. His court room scene was very emotional. Sarandon and Hoffman both have their tear-jerker moments as well. Sarandon has this scene where she's sitting on her daughter's bed drinking as Gyllenhaal is climbing through the window, and she just breaks down and its just really sad. She's such an amazing actress. She always makes her characters feel real. Never seen Ellen Pompeo play such a big part in a film. I thought she was great in this. Just really good acting in this film. Although this is an emotional film, there is also quite of bit of humor throughout the film. The relationships between the three leads are honest, and realistic. This film has a great script with a great cast. Also the music in the movie is pretty great as well. Just a sad, honest, real, emotional, and funny film."
♥˩ƳИИ ƜѲѲƉƧ♥
Super Reviewer
Moonlight Mile Quotes
There are no approved quotes yet for this movie.