Moontide
(1942)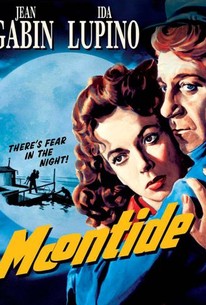 AUDIENCE SCORE
Critic Consensus: No consensus yet.
Movie Info
Forced to flee Paris during the Occupation, the great French leading man Jean Gabin starred in a brace of Hollywood films, the best of which was the first, 20th Century-Fox's Moontide. Cast to type, Gabin plays Bobo, a brooding itinerant dock-worker who gets mixed up in a drunken brawl. Upon awakening, Bobo is convinced that he has killed a man by his mercenary "pal" Tiny (Thomas Mitchell). Despairing at the thought of having committed murder, not to mentioned being blackmailed for the rest of his life by the treacherous Tiny, Bobo is able to find a few fleeting moments of happiness with Anna (Ida Lupino), a suicidal young girl whom he has saved from a watery grave (The intensity of the love scenes may well be due to the allegedly real-life romance between Jean Gabin and Ida Lupino). Novelist John O'Hara adapted the screenplay from a book by actor Willard Robertson.
Critic Reviews for Moontide
All Critics (3) | Fresh (2) | Rotten (1)
Moontide is a superb movie where the direction, mise-en-scène, cinematography, and performances are in line with the art. [Full Review in Spanish]
The story which has been chosen as M. Gabin's vehicle for his Hollywood debut really is one well-suited to his talents, though some of his past admirers may find it a bit too prettily romantic for a veteran of the brooding French tragedy.
Audience Reviews for Moontide
Feeling like a little slice of real life, a gypsy dockworker saves a suicidal prostitute, and then they save each other. There's some other pepper thrown in for spice but the game try for a cinema verite feel of the thing enthralls till the end for the most part. Gabin has most of the load thrown on him and he pretty much carries the thing, growling throughout, even when he smiles. Tommy Mitchell and Claude Rains deliver with their usual competent panache . Ida Lupino does relieved-not-to-kill-herself pretty good, too.
Kevin M. Williams
Super Reviewer
An engrossing little slice of dockside drama that is (unfortunately) more of a reflection of the Hayes Code than it is of the original source material.
Randy Tippy
Super Reviewer
½
Moontide is a little ensemble movie that tries really hard to be film noir and really, really pretends but doesn't quite get the job done. Jean Gabin plays a vagabond Frenchman who pulls a suicidal waitress, played wonderfully by Ida Lupino back from the brink. The movie seems to coast on Gabin's European simplistic charm and the film's eclectic cast of characters, including the scene-stealing Claude Rains. Moontide does rack up noir points with a few vague murder mystery elements and some fantastic photography. The bender sequence toward the beginning designed by Salvador Dali especially. The stories behind Moontide are more interesting (see the making-of documentary on the DVD) than the movie itself, but it could've been worse.
Michael Gildea
Super Reviewer
Moontide Quotes
There are no approved quotes yet for this movie.