More Dead Than Alive
(1969)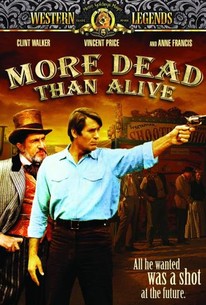 AUDIENCE SCORE
Critic Consensus: No consensus yet.
Movie Info
Cain (Clint Walker), better known throughout the West as "Killer Cain," is released from prison in 1891, after serving 18 years for killing a man, one of over a dozen lives that he'd taken from the age of 16. But he finds that his penalty is hardly paid and his punishment hardly over, even though he's truly reformed and wants no trouble. He's unable to get away from his past, even though the Old West is fading fast in the face of civilization -- in fact, the fading of the West is making matters worse, as ordinary folks are mostly scared of and curious about him. Additionally, he still has enemies all around, who will give him no peace; and to top it off, the only man willing to give him any kind of a job is Dan Ruffalo (Vincent Price), operator of a Wild West show, as a sharpshooter. It turns out that Cain isn't even that perfect a shot anymore, but Cain still becomes the show's biggest attraction, because people will pay to see -- or say they saw -- a killer, and that upsets young Billy (Paul Hampton), Ruffalo's other sharpshooter, who never misses but has also never killed a man either. Billy is a lot more frightening to Cain than Cain could ever be to Billy, because Billy turns out to be a psychopath. Adding to his troubles is the presence of Luke Santee (Mike Henry), a killer with his own score to settle with Cain, as well as Karma (Craig Littler), a mysterious lawyer who's been looking for him. Cain and Billy seem headed for a collision sooner or later, even as Cain tries to find peace in the company of Monica Alton (Anne Francis), an artist from the East who loves him, and who has come out West to make a new life for herself. ~ Bruce Eder, Rovi
Critic Reviews for More Dead Than Alive
Audience Reviews for More Dead Than Alive
Oh, I hate westerns, but at least Vincent Price has a better role than his last western. The story is familiar and predictable, so there's really not much point in watching this. I didn't like this movie.
More Dead Than Alive Quotes
There are no approved quotes yet for this movie.