The Morning After
(1986)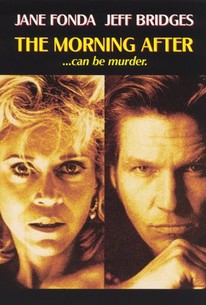 Movie Info
In this excellent thriller, crisply directed by Sidney Lumet, Alex Sternbergen (Jane Fonda), a washed-up, alcoholic actress who never quite made it, wakes up one morning in an unfamiliar, luxurious loft apartment, only to find the corpse of a stranger next to her in bed. Alex can remember nothing of the night before. In a panic, she tries to flee but is unable to get a flight out of Los Angeles, and short of cash, she hitches a ride with Turner Kendall (Jeff Bridges), a disabled former policeman who happens to be fixing his car in the airport parking lot. Alex tries to get rid of Turner and returns to the loft which she cleans in a futile attempt to get rid of her finger prints. Turner continues to take an unappreciated interest in Alex and keeps turning up unexpectedly, much to her annoyance. Finally, desperate and on the run, and never sure that she didn't commit the murder, Alex allows Turner to help her. Alex also confides in and is helped by her ex-husband and friend Joaquin Manero (Raul Julia), the only man she completely trusts. Despite Alex's suspicion of Turner, she slowly falls in love with him. The movie quickly moves to a surprising conclusion, and creates a good deal of suspense, particularly when Alex is confronted with a corpse that just won't stay put. The highlight of the film is the performance by Jane Fonda reminiscent of her magnificent performance as Bree Daniels in Klute. The Morning After never rises to the quality of Klute, but Fonda's performance was strong enough to earn her an Oscar nomination. ~ Linda Rasmussen, Rovi
Critic Reviews for The Morning After
Audience Reviews for The Morning After
½
Even a great filmmaker is not infalible, not when he has to work with a poor screenplay. The tone rambles, never decides if it is a comedy, a soap opera or a thriller. Performances by Jane Fonda, Jeff Bridges and the underused Raul Julia do some good to this ridiculous and predictible mess.
Pierluigi Puccini
Super Reviewer
A good thriller from Lumet, a great director, and it has a great cast too. I really liked this movie.
½
Jane Fonda gives an incredibly nuanced performance as a spiraling down drunkard, she researched the tragic 40's star Gail Russell who drank herself to death at 36 to fully understand her characters plight of a once promising actress reduced to blackouts and infamy. Jeff Bridges is almost as strong as a stranger trying to help her out of a situation she can't even remember. The rest of the cast gives good support starting with Raul Julia on down to a pre-stardom Kathy Bates in a tiny role, the problem is that the script that all this superior work is working with is ill conceived and not terribly well directed by the usually excellent Lumet.
The Morning After Quotes
There are no approved quotes yet for this movie.