Morons from Outer Space
(1985)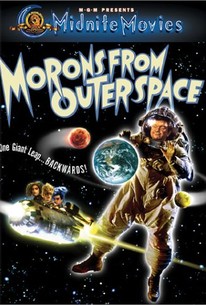 AUDIENCE SCORE
Critic Consensus: No consensus yet.
Morons from Outer Space Photos
Movie Info
In this partially successful Brit sci-fi comedy, four invading aliens cannot really think their way out of a paper bag, much less conquer Earth with their superior knowledge (apparently also non-existent). Of the aliens, Desmond (Jimmy Nail) is particularly thick-headed and leaves Bernard (Mel Smith) dangling out in space, Sandra (Joanne Pearce) attracts the romantic interest of British Commander Matteson (Dinsdale Landen), and Julian (Paul Brown) is along for the ride. After this trio causes a traffic snarl when they land on a British expressway, they are first interrogated and then given jobs in showbiz so they can support themselves. This leads to a great rock singing career, which in turn, leads to a U.S. tour -- though this does not equate rock singers and aliens. Meanwhile, Bernard has been saved from his abandonment in space by an unlikely space-wanderer who drops him off in the U.S., where he is put in an insane asylum. Sure enough, when his three companions start their U.S. tour, Bernard escapes and tries to rejoin them. The saga continues on until some sort of very unlikely rescue seems in store.
Critic Reviews for Morons from Outer Space
There are no critic reviews yet for Morons from Outer Space. Keep checking Rotten Tomatoes for updates!
Audience Reviews for Morons from Outer Space
½
The morons from outer space must have included Mike Hodges because this was just so stupid! Somewhat funny, at least.
Original and fun comedy horror film about dimwitted aliens. The film is an entertaining ride from start to finish and it definitely is a memorable cult film. The plot is pretty simple, but it is entertaining and fun. Morons from Outer Space does have its flaws, but overall manages to be an entertaining ride that every horror fan should take. The film definitely one of the better horror comedies out there and it is a film that has a terrific idea that works well enough. The film has its flaws, and it could have been better, but for the most part, director Mike Hodges direction is effective to keep you interested from start to finish. The actors playing the aliens are good in their performances, and it's the films main strength that makes Morons from Outer Space such a fun film. Comedic bits are strewn throughout and they overcome the film's imperfections such as towards the end, the film loses steam and slows down and becomes slightly tiring. This is very much the case with such films, and it is to be expected. Nonetheless this is an overlooked gem in the genre that deserves to be seen again and it's enjoyable as pure mindlessness from start to finish. The cast definitely make the material invigorating and refreshing. If only more films were like this, as it is a film that never takes itself seriously, and it's what makes it so much fun to enjoy with fellow genre fans. If you come across this obscured title, give it a shot, you may be surprised at how much you'll like it. A definite must see for midnight horror fans.
½
Bit of an overlooked Comedy starring Jimmy Nail (Still Crazy) and Mel Smith (The Princess Bride) who belong to a group of four aliens from the planet "Blob" that crash on Earth, and despite the fact that they are human in appearance and genetic make-up. The fact that they are from a distant planet causes a media frenzy that takes the country by storm. The only problem is as the world waits to hear what these other-worldly and super-intelligent beings have to say it is slowly revealed that they are in fact complete morons. While not the best film, it is a look into just how bad the media is and how bad people can be when a small story blows up big, and captures the world's imaginations. Really funny, and underrated Morons from Outer Space is a hidden gem, and if you can find a copy then you may want to check it out.
Jason Reneau
Super Reviewer
Morons from Outer Space Quotes
There are no approved quotes yet for this movie.