Mortal Engines
(2018)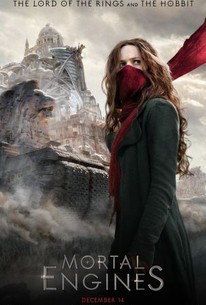 TOMATOMETER
AUDIENCE SCORE
Critic Consensus: Mortal Engines has no shortage of eye-catching special effects, but lacks enough high-octane narrative fuel to give this futuristic fantasy sufficient cinematic combustion.
Movie Info
Hundreds of years after civilization was destroyed by a cataclysmic event, a mysterious young woman, Hester Shaw (Hera Hilmar), emerges as the only one who can stop London -- now a giant, predator city on wheels -- from devouring everything in its path. Feral, and fiercely driven by the memory of her mother, Hester joins forces with Tom Natsworthy (Robert Sheehan), an outcast from London, along with Anna Fang (Jihae), a dangerous outlaw with a bounty on her head.
News & Interviews for Mortal Engines
Critic Reviews for Mortal Engines
Audience Reviews for Mortal Engines
Shocking nobody, Mortal Engines was not very good. Trying to jam way too much into two hours than is reasonable, it instead delivers on zero things. I guess I was kind of interested in the character of Shrike, but that was really the whole of my positive experience with Mortal Engines. Maybe if this thing had come out about eight years ago in the height of the bizarre Steam Punk obsession that gripped the globe (even if it was a weird sort of obsession where everybody called everything they like, and themselves Steam Punk but it really wasn't required to have any relation to actual Steam Punk) then the movie could have at least done well financially, but there's no world wherein this version of Mortal Engines is a consumate film.
½
Oh man. The John Carter of 2018. And I mean that comparison without malice or snark. John Carter was underrated and certainly didn't deserve to implode the way it did. The same goes for Mortal Engines, a Peter Jackson produced and designed sci-fi fantasy adventure that just didn't find the audience it needed. Engines functions as a cross between Mad Max and Star Wars, in that it's a post-apocalyptic story in which giant vehicles (which are essentially mobile cities) cross barren landscapes hunting for more resources, BUT we have a few brave young heroes who will join a rebellion and bring down an evil empire and its doomsday weapon/battle station. Oh yeah. It sticks to that formula along with a dash of Joseph Campbell's Hero of a Thousand Faces for its two main leads. Make no mistake, Mortal Engines is messy and bloated as all hell and no one in their right mind had any business committing serious money to a steampunk YA series long after that ship had sailed. The last YA series to make a successful run was The Maze Runner trilogy and it did so by a combination of realistic, limited ambitions and reasonable budgets. Even the Hunger Games movies BARELY made it to the finish line amid audience fatigue. BUT. Mortal Engines is so damn enjoyable and beautiful to look at, I'm kind of glad it exists. The vehicle and world design is so aesthetically pleasing, the phrase "eye candy" doesn't do it justice. Especially the elegant airships. (Why did we give up on those in popular fiction outside of Steampunk?) Hugo Weaving is probably the most recognizable face on screen, and he makes for a complex and interesting villain. Even after it's revealed how much of a self-absorbed douche he is, you may find it hard to blame him entirely for his reasons. Hera Hilmar and Robert Sheehan compete and cooperate for the role of hero and protagonist, and they do so effectively. Not only that, but they make a cute romantic pairing in that old Hollywood sense. There's plenty of action and I'd rate it as effective action, mostly. New director Christian Rivers works competently, and the years he spent working with Peter Jackson since Braindead shows. It's a shame this went badly, as Team Jackson has had a string of defeats recently. (Though I'm glad his WWI documentary They Shall Not Grow Old has made waves.) This has long since disappeared from theaters, so you will have to rent or stream it. Go see millions burn on screen, sky pirates attack tank cities, and steampunk terminators...terminate.
Joshua Sheetz
Super Reviewer
Despite all that bad publicity, Mortal Engines was brilliant, enjoyable and entertaining. Seriously, critics aren't giving this Peter Jackson-produced film enough love and are way too harsh. This dystopian Young Adults fantasy is a very well crafted visual interpretation of the same-titled Philip Reeves' first book of a series of 4 books, in what could have been the development of a very interesting franchise in the making. I believe the film suffered from poor marketing on the part of Universal, and the lack of knowledge of the author, rather than the film being poor. The ensemble cast is well assembled. However, due to the many characters, the film suffered from a shallowness that appears to give CGI and action more oomph, but giving a bland feel to the characters. My favourite bad ass heroine was none other than Jihae Kim as Anna Fang. I'd love to see more of her in films. She depicted her character very well as the strong leader of the "rebellion". The film is a nuanced political commentary, which may be difficult to resonate with, especially for an American or Western viewer, as the narrative involves a resource depleted of what's left of London in the future attacking the walled up East in order to survive. For me, this is a cult status classic. I've watched it three times already, and still loving it.
Chrisanne Chin
Super Reviewer
Mortal Engines Quotes
There are no approved quotes yet for this movie.