Mortal Kombat: Annihilation
(1997)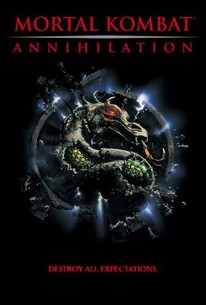 TOMATOMETER
AUDIENCE SCORE
Critic Consensus: With its shallow characters, low budget special effects, and mindless fight scenes, Mortal Kombat - Annihilation offers minimal plot development and manages to underachieve the low bar set by its predecessor.
Mortal Kombat: Annihilation Photos
Movie Info
Just when you thought the game was over, along comes the second movie inspired by the popular video game Mortal Kombat. While Liu Kang (Robin Shou) led his warriors Princess Kitana (Talisa Soto), Sonya Blade (Sandra Hess), Rayden (James Remar), and Johnny Cage (Chris Conrad) to victory, and the safety of the world seemed certain, no one counted on the treachery of Shao-Kahn (Brian Thompson), the evil Emperor of the Outerworld, who has a new plan to overtake the Earth. Shao-Kahn has discovered a portal between Earth and Outerworld, and if it stays open for seven days, the two worlds will merge, with Shao-Kahn controlling both planets. Rayden and Sonya set out to find his colleague Jax (Lynn Red Williams), while Liu Kang and Kitana are on the trail of Nightwolf (Litefoot) as they race against time to defeat Shao-Kahn, who has brought Kitana's mother Queen Sindel (Musetta Vander) back from the grave to aid his evil scheme. Mortal Kombat II: Annihilation marked the directorial debut of cinematographer John R. Leonetti. ~ Mark Deming, Rovi
Critic Reviews for Mortal Kombat: Annihilation
Audience Reviews for Mortal Kombat: Annihilation
Clearly a catastrophe as a sequel and overall film. Mortal Kombat: Annihilation is forgettable, inconsistent and filled with mediocrity that's insulting to the famed-fighting-game that it's inspired by. 2/5
Eugene Bernabe
Super Reviewer
'Flawless victory'...well not quite, in fact neither word should enter this review again. Follow up to the reasonable effort that didn't do too badly upon release and managed to thrash JCVD and 'Street Fighter'. This isn't too far from the first film really in terms of layout and fights, nothing too spectacular and not well acted, more pantomime than cinema. But like the original there are little rays of sunshine here and there, the odd little glimmer of decent action or a nice set. Lets not get carried away here though its so unbelievably cheesy and hammy yet all the cast seem to take it seriously, worryingly so James Remar who clearly needed the work. We do see more characters in this outing which was quite nice, a much wider range and some of whom didn't look that bad but again like the first film its hampered by outrageously bad CGI effects all over the show along with some nasty looking bluescreen work. Its still a complete childish mess which really does bring shame to the franchise lets be honest. The odd moment of sunshine doesn't outweigh the massive amount of crap on show. The costumes look the worst really, so pathetic, as if someones mum made them in her spare time or the kinda stuff you might wear to a fancy dress party. Due to this being an epic failure the third planned film, 'Mortal Kombat: Devastation', was shelved, not too surprising. Also interestingly...Sly Stallone turned down the role of 'Baraka', Lambert would of come back for this sequel but was committed to another film, Michael Jai White was gonna be 'Jax' but got 'Spawn' instead and Tony Jaa and Ray Park both were stunt men in this film.
Phil Hubbs
Super Reviewer
I feel like I stepped into a really bad Power Rangers episode made by 2 6 year olds. This movie has little to no redeeming qualities, and one a bad scale, is right up there with Eragon (And Eragon was HORRIBLE) Let's talk about the special affects. See line #1 of my review. They were downright awful. I could make better affects with my Windows Movie Maker. And a few puppets. And some string. I guess the creators of this movie need to thank God for photoshop. The villains were REALLY lame too (Again, see line #1 of my review) They looked like reject Power Rangers villains made in a kindergartner's fan fiction. Not only were these "bad" guys laughable, but there lines were really stupid. As was the acting. That's 3 Power Ranger's 6 year old references in one review. I think I've set a record! So yeah, the acting was pretty horrible. As for the plot...What plot? The movie is pretty much good vs evil and...Yeah that's pretty much it. My God, we've hit 4 people! 4!!!! This movie challenges everything you know about who makes movies. This movie could have been written by a monkey. It could have been acted out by the people in a Kindergarten play playing the trees, and the special affects could have been down by my 4 year old cousin. But I mean we do have to give this movie credit for something...The pink ninja is REALLY, REALLY hot.
Marc Lewis
Super Reviewer
Mortal Kombat: Annihilation Quotes
| | |
| --- | --- |
| Shao-Kahn: | Face it, Liu Kang. You will fail! |
| | |
| --- | --- |
| Shao-Kahn: | Father! The merge has begun. Earth is under attack...AND IT IS GLORIOUS!!! |
| Shao-Kahn: | Father! The merge has begun. Earth is under attack...AND IT IS GLORIOUS! |
| | |
| --- | --- |
| Rayden: | As long as I have the power, Kahn, you will never rule this world. |
| Shao-Kahn: | As long as the portal remains open, YOUR world becomes MY world! |
| | |
| --- | --- |
| Kitana: | Mother! You're alive! |
| Sindel: | Too bad *you*... will DIE! |