Mortal Thoughts
(1991)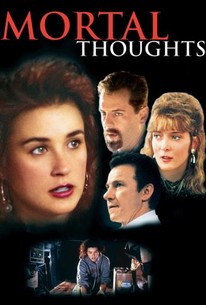 Movie Info
Mortal Thoughts is a low-key thriller revolving around the relationship between two best friends who are involved in the death of one of their husbands. The movie unfolds as the events leading to a confession are shown in flashback. Joyce (Glenne Headly) is married to the abusive, unfaithful James (Bruce Willis). During an outing at a carnival, James is killed, and Joyce and her best friend Cynthia (Demi Moore) try to cover up the murder.
Critic Reviews for Mortal Thoughts
Audience Reviews for Mortal Thoughts
Another former movie network space filler. Willis and Moore together on the screen. Oooh wow! Why can't Hollywood couples actually find something worth while to appear in together. Looks like they did it for the same of doing it.
John Ballantine
Super Reviewer
I think this was the movie that introduced Bruce and Demi together?? Anyhow I liked this little who dunnit that holds lots of twists and turns thru out. I have never been too keen on Demi's acting abilities however good performances from Bruce Willis and Glenne Headley. worth a look if you see it whilst channel surfing on a rainy day.
½
A woman's abusive husband (Bruce Willis) is murdered quite bloodily in the back of a van at a fairground. The wife's friend (Demi Moore) is suspected - will she get away with it? It's up to Detective John (Harvey Keitel) to determine. Somewhat memorable after all these years, but nothing earth-shattering.
Lafe Fredbjornson
Super Reviewer
Mortal Thoughts Quotes
There are no approved quotes yet for this movie.