Morvern Callar
(2002)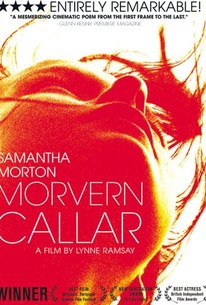 Movie Info
A thriller set in a remote Scotland port town, centering around Morvern Callar, an impoverished supermarket clerk. When her writer boyfriend commits suicide, Morvern, covers it up. Immediately following his death, Morvern--who's always struggled to make ends meet--steals his unpublished novel, sells it under her own name, and uses the profit to take off for the Mediterranean where she lives the easy, hedonistic life of a raver--clubbing non-stop in Ibiza, Spain.
News & Interviews for Morvern Callar
Critic Reviews for Morvern Callar
Audience Reviews for Morvern Callar
Cynthia S.
Super Reviewer
"Morvern Callar," the second feature film from British writer/director Lynne Ramsay (after 1999's heart-breaking and unfairly overlooked "Ratcatcher"), is an enigmatic film with almost no dialogue. It tells the story of a twenty-something supermarket clerk (played by the always intriguing Samantha Morton) who skates along the surfaces of life, going from party to party. Ramsay's artistic goals are hard to pinpoint, but one of them here seems to be a fairly scathing indictment of 1990s British youth culture. Morton's character, named Morvern Callar, is a girl from a lower-middle-class background living in a small town in Scotland. She has a pleasant demeanor but little to say. She only hangs around with people her age, whose favorite pastime is all-night raves where drugs and alcohol flow liberally. Let's just say that reading books is the last thing on the minds of these 21-year-olds. Their greatest happiness is a feeling of oblivion. Ramsay may not like ravers very much, but she certainly gets them. The depiction of aimless youth is better here than I've probably seen anywhere. The problem is that it doesn't make for very compelling viewing. Boring people don't often make arresting protagonists. Ramsay also doesn't push her agenda with much intensity. She starts to seem as bored with the film as the characters are bored with life. I like the basic idea of the project very much, and there is a haunting quality to the filmmaking, just like there was with Ramsay's previous film, "Ratcatcher." But Ramsay got stalled in the story development, never fully baking her ideas. Thus "Callar" has a sketchy, fragmentary quality to it that isn't very compelling. There is one story thread that tightens up substantially at the tail end of the film involving a spectacular attempt at plagiarism and a dead boyfriend. The film would have been stronger had Ramsay focused on this more. She seemed determined to drain the movie of as much story as possible, when there were several threads begging for development. There's no mistaking, however, that Lynne Ramsay is a talented, original, and genuinely artistic filmmaker. Even a weaker piece of work from her has more value in it than the mountain of prefabricated entertainment product being churned out in America. Cinephiles the world over owe it to themselves to cross paths with Ramsay's work. I'm very disappointed that she's had trouble getting a third film together. I wait with bated breath for her return to filmmaking!
William Dunmyer
Super Reviewer
strange film but i liked it. samantha morton is always worth watching. more modern than ratcatcher but almost as stunning to look at. very nice soundtrack too.
Stella Dallas
Super Reviewer
Morvern Callar Quotes
There are no approved quotes yet for this movie.