Mosquito Squadron
(1970)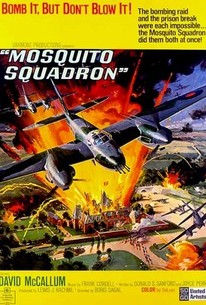 AUDIENCE SCORE
Critic Consensus: No consensus yet.
Movie Info
The Mosquito bomber was one of the more extraordinary developments of the Royal Air Force during World War II. A twin-engine plane made largely of wood, it flew faster than almost any fighter on the German side, carrying a maximum load of two bombs, and was employed on specialized missions that required pinpoint accuracy on a precise target -- obliterating a building or a small cluster of buildings rather than large tracts of enemy real estate. The men who flew them were among the elites of the Royal Air Force, some of the best of the best. Mosquito Squadron deals with such men and the kinds of missions they were assigned and the sacrifices they made. Quint Munroe (David McCallum) loses his oldest friend, Squadron Leader David Scott (David Buck), on a mission to destroy a group of German V-1 launchers -- he was like a brother to Scott, and must break the news to his wife Beth (Suzanne Neve), with whom Quint had once been involved. In the months that follow, he and Beth slowly rekindle their romance -- meanwhile, the German V-weapon program continues to advance, and they are getting ready to unveil the V-3. Quint is given the task of destroying the V-weapon plant at Charlon, a mission made possible by a new "bouncing bomb" called the "highball," invented by Dr. Barnes Wallis (of "Dambusters" fame). Just before the mission is to be undertaken, however, the Germans drop a film showing air prisoners, including a still-alive Scott, being moved to Charlon. Now the Mosquito crews will be killing their own colleagues and friends, and Quint must carry out his orders, which include hiding the fact that Scott is alive from Beth. The secret gets out to the squadron pilots, however, and a rebellion starts brewing in their ranks. Try as he might to find a way to save the lives of the prisoners, there seems to be no way for Munroe to avoid killing British pilots with British bombs. ~ Bruce Eder, Rovi
Critic Reviews for Mosquito Squadron
Audience Reviews for Mosquito Squadron
½
Mosquito Squadron is rife with terrific aerial combat and bombing sequences but the film gets bogged down in it's romantic subplot and story tangents. Will Quint make a play for Beth, his best friend's widow. Will Beth learn that her husband is still alive? Will Beth's brother be fitted with a prosthesis for his missing hand? It's all far too distracting.
Randy Tippy
Super Reviewer
Mosquito Squadron Quotes
There are no approved quotes yet for this movie.