Most Likely to Die
(2016)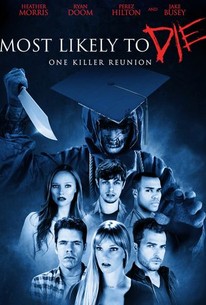 Most Likely to Die Photos
Movie Info
A group of former classmates gather for a pre-party at one of their homes the night before their 10-year high school reunion, and one-by- one, they are brutally slain in a manner befitting each's senior yearbook superlative.
Critic Reviews for Most Likely to Die
Audience Reviews for Most Likely to Die
Derivative, obvious and full of the most tedious exposition, this is a pathetic slasher that believes to be one step ahead of its viewers when in fact all about it is completely predictable (including the identity of the killer) and it can't find anything original to say outside of its formula.
Carlos Magalhães
Super Reviewer
I don't think I would be wrong in saying that this feels either like a SyFy or Chiller original movie. And, really, both TV stations are owned by NBCUniversal, so they may as well be the same channel. Both specialize on a very particular genre that doesn't necessarily appeal to a more mainstream crowd. But that's neither here nor there and it's really irrelevant to the review. The point is that this just comes across like one of the original movies from either channel. Though, if I'm being honest, and I'm not the type of person who sits around watching SyFy or Chiller original movies, and I really mean original, not movies that are already made that they buy the rights to have limited screening for before they show it on their channel. But this movie, in all honesty, wasn't as bad as it looked on the trailers. Not that I'm saying that this was good or anything, but it's a campy little slasher if you're looking for a campy slasher. Is it a particularly well-made movie? I mean no, but it is competent and, at the very least, serviceable. It's obviously, in spite of its clever title, which is the only clever thing about it, a very formulaic slasher film. As formulaic a slasher film as they come in all honesty. The acting isn't anything to write home about, but it's not embarrassingly awful either, at least not to me. But, taking everything into consideration, I feel that this should have been worse than what it actually was. Maybe this is an awful movie, I could have just been in a great mood yesterday and that helped me not dislike this as much as I could have on a shittier day. But, again, this is a movie that does not pretend to be more than what it is. That's not suggesting that it gives them an excuse to be a shitty movie, but it's suggesting that we also should not go in expecting this to be a masterpiece. That much should be obvious, if you were expecting it to be a masterpiece then you really don't know much about horror. And that comes across like a defeatist attitude, but this is the way that it is and there's nothing wrong with that. Again, not every movie can be great and others just do what they can. One of the elements I did like, even though it plays into all the stereotypes, is the fact that these people's past is coming back to bite them in the ass. This is a common theme in slashers, but I like how it's done here. It just feels more powerful. That might be a wrong word to use, but there's like a strong connection between the bullying that they put John Dougherty through and the effect that had on the rest of his life leading up to his suicide. It's even more relevant in this day and age, what with bullying and all that shit being so openly talked about. It's not like the film deals with this subject sensitively, but, again, I liked how it dealt with its characters and their actions in high school. People, in general, say so much shit without ever really thinking of the consequences, so it's interesting that the movie deals with that. Like I said, it's a common theme in slashers, but I liked how it's dealt with here. I can't really say much else about this movie. It's not like I'd ever say this was good, but it's watchable at the very least and it might be a lot of fun to watch with a group of friends. This was enjoyable in a campy way, even if I'd say it was, looking at things realistically, a below average movie.
Jesse Ortega
Super Reviewer
Most Likely to Die Quotes
There are no approved quotes yet for this movie.