Motel Hell
(1980)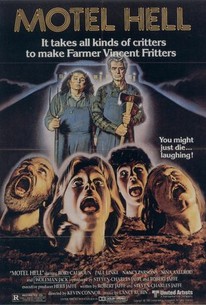 Movie Info
People come from far and wide to sample Farmer Vincent's distinctively flavored dried, smoked sausages, but one might well ask why there are so few people staying at his nearby motel. This horror comedy provides the graphic answer. It seems that the good farmer only uses the highest quality, specially processed human meat in his treats. To prepare the meat, he first harvests healthy tourists from his hotel. Next, he plants them into the ground up to their necks and with a sharp knife carefully slices their vocal chords. He and his portly sister then feed the victims until the meat is tender and well marbled with fat. Afterward they are promptly slaughtered, minced with a few secret herbs, and stuffed into sausage casings, which are then carefully aged in the smokehouse. His operation is abruptly cut off when Vincent's normal brother, Bruce, learns about the secret ingredients. In the end, the brothers grab chain saws and have a hilarious, blood-soaked showdown. ~ Sandra Brennan, Rovi
Critic Reviews for Motel Hell
Audience Reviews for Motel Hell
½
Motel Hell is a gem of 80's horror sleaze. The premise is quite ridiculous, but is a terrific horror comedy. Directed by Kevin Conner, Motel Hell is one of those films that though is not perfect; should be seen by every horror fan. Motel Hell is pure camp, and if you enjoy cheesy horror flicks, then look no further than Motel Hell. This film has it all. What makes this film so enjoyable to watch is the bizarre premise for the films plot. What I enjoyed about Motel Hell was that it was a parody of more serious films such as The Texas Chainsaw Massacre and Psycho. Director Kevin Conner definitely delivers good comedic elements here, and it's what makes this film such a memorable viewing. Motel Hell is a must see horror comedy fans. The acting is corny, but despite this, lead actor Rory Calhoun gives one memorable performance as Farmer Vincent. Another performance worthy of mention is that of legendary radio DJ Wolfman Jack as Reverend Billy. As a whole, Motel Hell is a fun, zany and unique horror comedy that like I said needs to be seen. This is mindless silly fun that will appeal to anyone looking for a good horror comedy. The film is more tongue in cheek than anything, but for what it is, it delivers good entertainment. I think that Motel Hell is one of those unique classics that most horror fans have seen, but a great majority of genre fans haven't seen. Either way, this is one of those films that surely every horror fan has heard about. Not a perfect film by any means, Motel Hell is nonetheless essential for every horror fan to watch at least once. A truly unique horror film.
½
This definitely would fit under the category "So bad it's good", problem is it's just NOT bad enough. If it was even more over the top and ridiculous it might actually have been funnier. Being that it took it's silliness too seriously it wasn't that funny...at all. Motel Hell lacked in it's own self-awareness. It wanted to be an intense, scary Texas Chainsaw '74 rip off and a funny-like Three Stooges film at the same time. It didn't mesh well, got lost in transitions, therefore becoming just an average cheesefest and nothing more. The situations and characters showed no signs of reason or rationality (whatsoever), even in their own morbidities, that being ridiculously more over the top would have worked better (Godzilla taking a shit on their farm would have been excusable). A film with so much potential, and lacking in (extreme)humor, becomes flat in the end result. I'm aware of it's cult status, and I would never debunk a fan, but personally I thought this film failed on almost every level. I hope the remake is much better because this is one horror film that should definitely be remade. I give it 2 1/2 stars for the effort and it's intentional, sickening approach to poke fun at the genre. I also liked how it paid homage to certain horror films. But that's about it. Could have been so much better.
jd cryptic
Super Reviewer
½
Wonderfully psychotic and laugh-out-loud funny.
Tim Salmons
Super Reviewer
Motel Hell Quotes
There are no approved quotes yet for this movie.