mother!
(2017)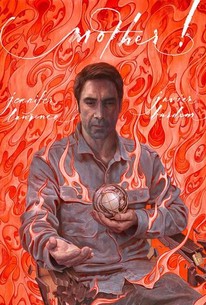 TOMATOMETER
AUDIENCE SCORE
Critic Consensus: There's no denying that mother! is the thought-provoking product of a singularly ambitious artistic vision, though it may be too unwieldy for mainstream tastes.
Movie Info
A couple's relationship is tested when uninvited guests arrive at their home, disrupting their tranquil existence. From filmmaker Darren Aronofsky (Black Swan, Requiem for a Dream), mother! stars Jennifer Lawrence, Javier Bardem, Ed Harris and Michelle Pfeiffer in this riveting psychological thriller about love, devotion and sacrifice.
Critic Reviews for mother!
Audience Reviews for mother!
The first half of the film works. It's a home invasion thriller that is supposed to piss you off, and it does. What happens in the last 30 minutes of the movie may be some kind of metaphor for whatever, and it's certainly gutsy to have a film go off the rails entirely like this, but any sane viewer should probably just laugh at how pretentious and ridiculous it all is. Is it memorable, entertaining and maybe even fascinating? Absolutely. Is it artsy-fartsy bullshit too? Oh hell yes.
½
With the Oscar recognitions surrounding them, you could say that Black Swan and The Wrestler have been Darren Aronofsky's most commercially successful films. In fact, they operate as great companions pieces that explore very similar themes. It comes as no surprise then that Aronofsky has chosen to follow-up his last film, Noah, by exploring similar themes again and approaching another biblical interpretation. Only this time, he does so from a very personal and contentious angle. Plot: Living a tranquil, rural lifestyle with her poet husband (Javier Bardem), a young woman (Jennifer Lawrence) begins to feel threatened when the arrival of a mysterious couple (Ed Harris & Michelle Pfieffer) disrupt her quite country home. A lot of controversy has surrounded Darren Aronofsky's Mother! but it's the directors artistic and ambiguous approach that has alienated a wide margin of audiences. It's fair to say that Aronofsky is a man with his own vision but few, if any, of his films have been as polarising as this. It received a mixture of both boos and a standing ovation at its Venice Film Festival premiere and has came in for some scathing criticisms while auteurs like Martin Scorsese have came to the film's defence. Put simply, Mother! isn't a film for everyone and it's certainly not the mainstream material that many cinema goers were expecting from a film headlined by Jennifer Lawrence. Many, myself included, are still grappling with just what in the hell the film is all about. For a while, I was caught up in the disorienting narrative and I didn't really know where the film was going. I considered theories of a fractured mental state; a pregnant woman's psychological urge to nest build and how the outside world is suddenly a threat. The nature of celebrity and the challenges of the artistic process also came to mind and in its opening scenes I considered the film to be, simply, a paranoid, haunted-house horror piece much in the same vein as Roman Polanski's Rosemary's Baby. In fact, the first half of the film has a very uneasy atmosphere that permeates every scene and it's hugely reminiscent of something that Polanski would deliver. However, the second half also brought reminders of the abstract approach associated with David Lynch and the recurring themes that he explores of fractured psyches and characters that are, seemingly, unable to maintain a grip on reality. However, these theories were about as fleeting as a fart in the wind as Aronofsky refuses to be tamed or allow his nightmarish film to be pigeonholed in any conventional sense. That said, once you get the gist that the film is a biblical allegory then all of the symbolism and the motivation of the characters become deceptively simple. Take, if you will, the fact that non of the characters are given names. It's simply by their actions that we know them. They are representations of Mother Earth (Lawrence), God (Bardem), his creations Adam (Harris) and Eve (Pfieffer) and their sons Cain and Abel (the Gleesons) and even the house is a representation of Eden. Even one of the film's most disturbing scenes is played out like a crucifixion of sorts - which is entirely in keeping with the film's biblical notions. There are definite shades of Aronofsky's Black Swan in that our titular character is of a fragile and tormented mental state - even the film's poster is similar to the fractured porcelain doll of Black Swan's poster where the cracks are subtly hinted at. That aside, the biblical angle is probably the interpretation that sits the easiest but there's still an undoubted ambiguity to the whole affair. And that's what I love about mother! I often respond positively to films that are not easily explained; narratives that permeate my psyche, leaving me pondering for days and weeks on end and that's exactly what Aronofsky delivers here. There are wonderful performances across the board. It's always a pleasure to see Ed Harris and it's fantastic see Michelle Pfeiffer sink her teeth into one of her best roles in years. But it's important to recognise the performances of the two leads in particular: Lawrence's besotted and committed nurturer and Bardem's benevolent and caring creator perfectly portray the themes that Aronofsky is going for here and his compositions and close-up shots of both actors allow them to subtly take command of their roles. In fact, the camerawork in general by Matthew Libatique plays a huge part in this film. His hand-held approach sets the tone and mood; we rarely remain static which perfectly emulates the emotions of our lead character and allows us to experience events from her perspective. Needless to say, it's unsettling and the disquieting tone is complimented by visual effects supervisor Dan Schrecker, who very impressively manages to convey an environment of a personal and claustrophobic hell. I suppose you'll never really know if Mother! is for you unless you take the plunge. I would recommend that you do so with an open mind and while I can completely understand a lot of viewers disliking it I, personally, found it to be riveting and a hugely involving and rich tapestry of phantasmagorical nightmares. It's abundant with religious and political imagery that are nothing less than striking and the more I think and ponder on it's theological themes and metaphors, the more I admire it for its ambition and bravery. This is quite a Byzantine piece of work from Aronofsky and, without doubt, one of his strongest and boldest films. Mark Walker
Mark Walker
Super Reviewer
I have never seen a film like this before --- that fits as much as it does on the screen at once, that hits as many themes as it does at once...it's simply a cinematic triumph.
Matthew Samuel Mirliani
Super Reviewer
mother! Quotes
There are no approved quotes yet for this movie.