Mother and Child
(2010)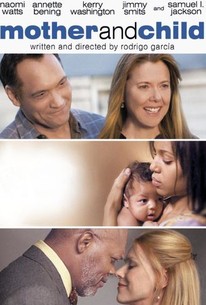 TOMATOMETER
AUDIENCE SCORE
Critic Consensus: Though it occasionally veers into unnecessary melodrama, Mother and Child benefits from a stellar cast and writer-director Rodrigo Garcia's finely detailed, bravely unsentimental script.
Movie Info
Writer/director Rodrigo Garca (Nine Lives) teams with executive producer Alejandro Gonzlez Irritu to craft this drama highlighting the powerful bond between a mother and her son. It's been years since Karen (Annette Bening) gave her daughter, Elizabeth, up for adoption, and the decision to abandon her child has always haunted her. Upon meeting laid-back Paco (Jimmy Smits), Karen permits her anxiety and mistrust to get the best of her. On the surface it appears that Elizabeth (Naomi Watts) is none the worse for never knowing her biological mother; she's a fast-talking lawyer who's just landed a high-profile job at a firm fronted by Paul (Samuel L. Jackson), though her unsavory penchant for exploiting others is about to blow up in her face. Meanwhile, maternal-minded baker Lucy (Kerry Washington) longs to experience the joys of motherhood, eventually deciding that adoption is the best bet to start a family with her husband, Joseph (David Ramsey). ~ Jason Buchanan, Rovi
Critic Reviews for Mother and Child
Audience Reviews for Mother and Child
García made a really powerful drama here with a highly emotional and sincere story about regrets and how some choices that we make in our lives define our paths and future, and it has a fantastic cast, especially Annette Bening and Naomi Watts, who deserve to be praised.
Carlos Magalhães
Super Reviewer
½
In Mother and Child there are moments of pure magic and others that are manipulative yet sincere in trying to convey all there is to life, thematically seen through the lens of adoption. This is yet another of those shotgun series of intertwining stories where seemingly disparate story lines vie for time and attention yet in this case they end up telling more than the stories themselves. Part of this is due to the fine cast that includes SL Jackson, Jimmi Smits, Naomi Watts and in particular Annette Bening, that breathed life into the characters that could otherwise have come off as cardboard cut outs in lesser hands. Bening is just so good in portraying the prickly 50 something woman who still carries the burden of putting her child up for adoption back when she was 14 - some 37 years ago. She is so tightly wound and yet, as the film progresses she finally finds forgiveness for everything, including herself; a stellar performance where you can see the ice melt in her facial expressions (though I did think that her entire relationship with the easy going Smits was a bit unbelievable - it especially caught me off guard when the ever revolving door of stories told through short scenes came back to Bening to see her wedding day). I also thought that Watt's character, a driven attorney who wants to be beholden to no-one... perhaps a residue from her being put up for adoption at birth (yep, by Bening), was a strong part and well played, although some of her motivations seemed a bit murky. Her interaction with Jackson sparkled, and Jackson was just so smooth and natural, as if he wasn't acting at all (which can also be said of Smits by the way). The 3rd story arc here involves a young couple unable to conceive a child, so they decide to adopt. It is this story that, although a bit melodramatic, held my interest by showing the all too prevalent miscommunication between husband and wife, as well as the often misguided desire of some women to want to be mommies. The film was succinct in skewering the woman, showing her overblown temper tantrum when her hoped for adoptee was taken away from her (a fine bit of melodrama, yet scary for the histrionics and wailing "it's MY baby" emphasis on "it's mine", even though, at that point, she had absolutely no bonding with the babe). Shortly thereafter, after receiving another child (in a rather unbelievable set of circumstances), she complains that the bratty child is all take and no give... which allowed her mother to look her square in the eye and tell her to grow up. Clearly the woman was living in that wonderful fantasy land where the allure of having a child is just like that of any other material possession - and when the reality hits her that kids are a ton of hard work, she sees that she was duped by the overwhelming Christian ethic of go forth and propagate. She could only feel good about herself if she was somehow fulfilling that duty, whether by conceiving or adoption - her self worth depended on her being perceived as a mother. The film of course squandered that good will by taking the last quarter of the film and tying everything into a nice bow of melodramatic happy ending - because, of course, god would not allow his children to suffer (uh huh, here we have a very real set of stories, about real people and real issues and then the film has to go and ruin it by subtly inserting a religious aspect to it all). I must admit that I tend to agree with a portion of what the message is here - life is to be lived, and forgiveness is the key to grace... including forgiving yourself. There is also the message that the past is done, so move on and look forward. This theme resonated for me, as I know someone closely who frequently wallows in an event that, although terrible, happened over 30 years ago - she'd be so much better off to forgive or at least forget, just as Bening's character was so much happier with her own skin and the world around her once she accepted that what was done is indeed done. In the final analysis, there is a lot of truth in the film, and some of its observations on humanity and human interactions are well said; but by the ending I felt that the intertwining of the stories became just a bit too forced and convenient.
paul sandberg
Super Reviewer
½
Only saw the second part of this, but each of the leading ladies did a great job and the story and writing was solid. I hope to watch this all the way through one day.
Jameson Worley
Super Reviewer
Mother and Child Quotes
| | |
| --- | --- |
| Lucy: | The truth is easier to remember. |
| | |
| --- | --- |
| Violet: | Are you married. You must be, or you wouldn't be hiding out here so often. |
| | |
| --- | --- |
| Ray: | Do you always tell the truth? |
| Lucy: | The truth is easier to remember. |