Mother Joan of the Angels (Matka Joanna od aniolów)
(1961)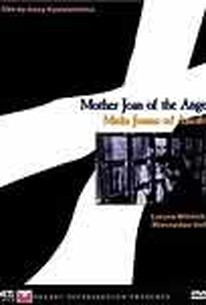 AUDIENCE SCORE
Critic Consensus: No consensus yet.
Movie Info
A Mother superior in a 17th-century convent finds herself possessed by the Devil in this Polish drama set in a convent of Ursuline nuns. Several attempts are made to exorcise the demon. While four priests attempt to banish the spirit, two more are burned at the stake for impregnating her. All but one of the other nuns allow Satan's minions to enter their bodies. An extremely devout priest uses every power at his disposal to exorcise them. But even self-flagellation cannot stop them. In desperation, the priest consults an aged rabbi who suggests that the "demons" are really manifestations of human nature. The priest then finds himself becoming possessed by the Mother Superior. Suddenly he desires her body and soul. To prove his desire, he murders two stable grooms. He then encounters the one unpossessed nun who has just spent a night of lovemaking with an aristocrat who has since tossed her out. She is terribly upset and the priest advises her to go back to the convent and tell the Mother Superior of the lecherous man's misdeeds. ~ Sandra Brennan, Rovi
Critic Reviews for Mother Joan of the Angels (Matka Joanna od aniolów)
All Critics (4) | Fresh (4) | Rotten (0)
Jerzy Kawalerowicz's style is excessively geometric and rigid, but not without charm. [Full Review in Spanish]
The imagery in Mother Joan of the Angels is full if robust symbolism and beautiful, if increasingly more complex and sinister, compositions.
Audience Reviews for Mother Joan of the Angels (Matka Joanna od aniolów)
½
Jerzy Kawalerowicz's art horror, it's not just one of the best films about faith and religion, but also could bring a big debate about the theme. William Friedkin's The Exorcist, for certain was inspired in this 60's classic with great actings by the cast. Surrealist, tense and surprising. Fresh.
Lucas Martins
Super Reviewer
½
this amazing film stands in great contrast to ken russell's wild tale of possessed nuns, 'the devils'. also based on historical events in loudun, france in 1634, this film begins after the burning of the priest, urbain grandier, who was likely the victim of a political frameup engineered by the powerful cardinal richelieu. both films take the story at face value, suggesting if not literal demonic possession, at least sexual repression leading to mass hysteria. however this polish film couldn't be more unlike russell's psychedelic riot, choosing austere black and white minimalism to reproduce the medieval atmosphere. the haunting horror tale is also a love story between the possessed mother superior and her exorcisor. for as a hostile kabbalist tells the bewildered priest who reluctantly seeks his advice, love is at the root of everything on earth.
Stella Dallas
Super Reviewer
½
Intriguing drama with splashes of disturbing psychological horror. Kawalerowicz took a similar approach to Dreyer and his Joan of Arc, doing many close ups and trying to dive into existential issues as faith, corruption of the soul, and free will.
Pierluigi Puccini
Super Reviewer
Mother Joan of the Angels (Matka Joanna od aniolów) Quotes
There are no approved quotes yet for this movie.