Mother, Jugs and Speed
(1976)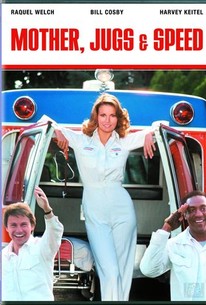 Movie Info
Three ambulance workers--Mother (Bill Cosby), Jugs (Raquel Welch) and Speed (Harvey Keitel)--try to rejuvenate their nearly bankrupt company.
Critic Reviews for Mother, Jugs and Speed
Audience Reviews for Mother, Jugs and Speed
½
An engaging, very funny black comedy gem from the mid 70s, expertly directed by the late Peter Yates. It concerns a privately owned ambulance company called the F&B ambulance company, and there intense competition with their rival the Unity ambulance company for a contract with City of Los Angeles. Bill Cosby steals the film outright with his hilarious performance as "Mother", the streetwise seen-it-all EMT, who is forced to partner up with a shady suspended cop nick-named "Speed", nicely played by Harvey Keitel, and the smoking hot "Jugs," the radio dispatcher who has high aspirations of becoming the first women driver and EMT, played wonderfully by the super sexy and sultry Raquel Welch, special kudos must go to the superb character actor Allen Garfield for his memorable comic performance, as Harry Fishbine the neurotic and money-hungry owner of the F & B ambulance company, and the excellent Larry Hagman, as Murdoch a sleazy, oversexed ambulance driver. The supporting all deliver marvelous performances they included L.Q. Jones, Bruce Davidson, Dick Butkus, Miilt Kamen, Barra Grant, Allan Warnick, and Valerie Curtin. Great music soundtrack with many songs from the period, A cool, raunchy film that is an intelligent mix of slapstick and drama. Highly Recommended.
Danny Rovira
Super Reviewer
This movie can't decide what it is. Is it a comedy? Is it a social drama? Is it a romance? An interesting concept I knew nothing about executed terribly. It's about the way ambulance services and emergency medical care were provided and were changing in the 70's. Cosby tries to be funny and has the nickname Mother because he is the responsible one in a crew of ambulance drivers and EMTs. Welch is nicknamed Jugs and is fighting for women's lib. And Keitel is nicknamed Speed. It's hard to tell if he is a bad boy or a reformed good guy looking for a new life, but chances are he's looking for that second chance.
Byron Brubaker
Super Reviewer
This was a good classic Saturday Morning matinee movie. This movie shows the humorous and tragic side on how tough it is to be an ambulance employee. See it...it is a classic.
Fascade Fiveoneeight
Super Reviewer
Mother, Jugs and Speed Quotes
There are no approved quotes yet for this movie.