Mother of Tears: The Third Mother
(2007)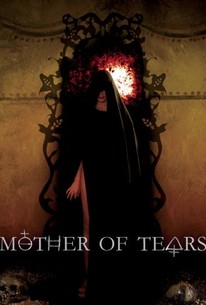 TOMATOMETER
AUDIENCE SCORE
Critic Consensus: As excessive and ketchup laden as predecessors Suspiria and Inferno, Dario Argento's Mother of Tears completes the trilogy with the same baroque grandeur and soggy 1970s sensibilities.
Mother of Tears: The Third Mother Photos
Movie Info
The conclusion to Dario Argento's stylish "Three Mothers" trilogy, starring the director's daughter, Asia Argento, as an art historian who must summon her latent psychic powers to defeat an evil witch. Mysterious artifacts discovered in an old graveyard unleash the Mother of Tears, who intends to plunge the world into bloody violence. Adam James, Udo Kier, Daria Nicolodi.
Critic Reviews for Mother of Tears: The Third Mother
Audience Reviews for Mother of Tears: The Third Mother
½
A disappointing and unnecessarily sleazy conclusion to Argento's "Three Mothers" trilogy. I don't know quite what Dario was thinking with this one. Asia Argento just cannot act convincingly at all, there's little care taken into making this as stylish and unique as Suspiria or Inferno. As a stand alone tits 'n' gore flick it's fine as it delivers in heaps.
George Romero seems to catch a ton of shit for having "lost it" over the course of three films. Dario Argento has been fucking up around once every two years since, I dunno, 1990? And this, this is just unconscionable. For this to be in the same trilogy as Suspiria (which I really disliked upon first viewing but have since come to appreciate), or even from the same director, just puts a lurching sort of nausea in me. It looks like shit, sounds like shit, and makes not an ounce of sense. The acting is horrendous; Asia Argento, who is reliable in some parts but clearly limited, is disappointingly awful in trying to project anything except anger or passion. Sadness, quietude and revulsion are completely out of her grasp, and though she at least convinces in projecting fear, the movie itself has no such luck. It might be the stunningly amateurish staging and blocking putting a damper on her attempts, but she just doesn't work at all. To be fair, if you were compiling a list of Mother of Tears' many failures, she wouldn't be too high up. Things that are more immediately offensive than her: the groan-worthy ending, the cheap and utterly bland setting and aesthetic, and its complete inability to generate any sort of tension or suspense or atmosphere or honestly ANYTHING that would make this worth watching. Even divorced from its horror roots, this doesn't work as any sort of film. As a gory adventure, it's about as exciting as taking a long, feverish Italian nap. Honestly, the gore is just about all Argento gets right, almost as a reconciliation for the rest of his limitations. It just isn't enough to crawl through this disaster, though. It usually is for most of his movies, but his typically excellent set pieces are diminished here, and the viscera brought forth in unsurprising and uninteresting ways. An utter disaster from start to finish, this is more depressing than anything else. There's absolutely no reason to watch this aside from woebegone fealty to Argento himself.
Drew Smith
Super Reviewer
The third part of Dario Argento's three mothers trilogy is really a so-so film of horror. With Mother Of Tears, he seemed to just be bored with the script, and not give this project the attention it deserved. Inferno was decent enough, but with Mother Of Tears, I felt that Dario Argento could have done a lot better than this. The film almost relies more on gore and violence than atmosphere and tension and thats what made Dario Argento's works so thrilling was his use of tension, closeup shots, violence, a dark creepy atmosphere like in masterworks such as Deep Red, Suspiria and Tenebre. With Mother Of Tears however, only the violence remains, hints of atmosphere are indeed present but Argento's lack of previous style that made his earliest works soar, make this one a dud. What exists now only is a shadow of what was great. Argento seemed really bored with the 3 mothers saga at this point and it shows on screen. His signature style, like I've mentioned, is almost absent. It's a real shame, but I guess even the greatest of all Horror directors make bad films.
Mother of Tears: The Third Mother Quotes
There are no approved quotes yet for this movie.