The Mothman Prophecies
(2002)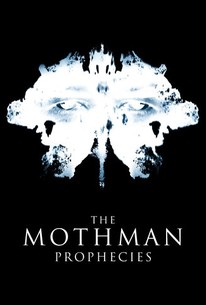 The Mothman Prophecies Photos
Movie Info
When John Klein, a respected Washington Post journalist, and his wife Mary find the dream house they have been hunting for, life could hardly get better. Then on their joyful ride home the dream is shattered when Mary crashes the car and is killed. While removing Mary's possessions from the hospital, John discovers a sketchpad covered with odd drawings, variations of the same eerie apparition. John is haunted by the unsettling images. One night, while driving from Washington, John loses his way and ends up on a deserted country highway in Point Pleasant, West Virginia -- four hundred miles from where he thought he was. When John decides to stay in Point Pleasant to explore the reports of unexplained phenomena in the town, he soon realizes that they may all be related - not just to each other, but also to the strange sketches Mary had been obsessively drawing just hours before her death.
News & Interviews for The Mothman Prophecies
Critic Reviews for The Mothman Prophecies
Audience Reviews for The Mothman Prophecies
Richard Gere tends a hit or miss actor due to his limited range, but I actually really liked him in this underrated psychological horror-thriller. Gere brings a compelling vulnerability to John Klein, a recently widowed reporter investigating the strange sightings of the Mothman in a lonely West Virginian town. It's pretty slow-burn at the beginning, but once Klein arrives in Point Pleasant, the film never lets up with delivering smart scares and a super chilling atmosphere. The sequence where Klein is in his hotel room talking to Indrid Cold on the phone is literally one of the freakiest horror movie scenes ever!! I also really liked how the script manages to take it's real-life source material and seamlessly weave an examination of Klein's journey through grief and eventually acceptance. This film could have so easily been a X-Files knock-off but thankfully avoids those trappings, for the most part. I probably would rate this movie higher if 10 or 20 minutes have been trimmed. I also thought the ending was technically great but seemed to abandon the great atmosphere the filmmakers did such a good job of setting up before. Overall, this is a very high quality modern horror film.
Christopher Heim
Super Reviewer
I distinctly remember this film because of the bridge sequence. Mediocre to be sure, but maybe worth a late night watch when there's nothing else to do.
Tim Salmons
Super Reviewer
½
This incredibly drawn out film is not without potential, whilst it's weird, dark and unique, it somehow loses itself, which I feel is in the storytelling and just when you feel it's a little too dull the ending offers a little consolation for sticking with the film
Lady D'arbanville
Super Reviewer
The Mothman Prophecies Quotes
| | |
| --- | --- |
| Alexander Leek: | You're more advanced than a cockroach. Have you ever tried explaining yourself to one of them? |
| | |
| --- | --- |
| Connie: | Wake up #37 |
| Connie: | Wake up #37. |