Mothra
(1961)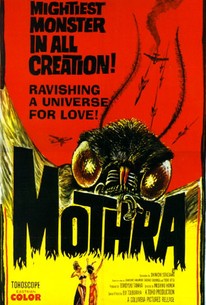 Movie Info
Mothra was the third major addition to the Toho Studios' giant-monster stable after Godzilla and Rodan, and the first female beast in the series. The creature begins Ishiro Honda's entertaining film as a giant larva worshipped by island tribesmen and guarded by twin sisters (Emi and Yumi Ito) who stand only a few inches high. Eventually, the larva metamorphoses into a giant female moth and panic ensues as the creature attempts to regain her stolen egg and her tiny protectors. The usual pandemonium and destruction is tempered here by a softer edge which would come to dominate the genre for much of the decade. ~ Robert Firsching, Rovi
Critic Reviews for Mothra
Audience Reviews for Mothra
Mothra is always an uncomfortable mix with Godzilla, Rodan and the rest of them. Someone once commented suggested to me that Mothra could do no better than "piss off" Godzilla or Ghidorah in battle. Thankfully we have just Mothra alone in her debut and it is thoroughly entertaining.
John Ballantine
Super Reviewer
½
One of the best non-Godzilla Toho monster flicks. Not as dark as "Gojira" or "Rodan" but still possesses artistic merit. The special effects are remarkable and the story is full of colorful characters.
Christopher Heim
Super Reviewer
They'd done Godzilla. They'd brought us color monster madness with Rodan. Now Toho continue to improve their Kaiju films with Mothra. Once again Mothra is the result of nuclear radiation, but those themes are just around to explain her size. The main plot is Mothra's rescue attempt of two miniature women taken from her island. Strange? Certainly, but it's nice to see the monster with a clear agenda and some actual motivation. The models and effects are the best so far. Remote controlled vehicles, green screen, monster puppets, are all thrown in to give us some truly exhilarating city smash ups. Even when "people" are obviously dolls, it's OK. Films don't have to be a replacement for the imagination. I was never dragged out of the film's universe, and the scenes of the dam bursting had me appreciating film making more than any CGI filled computer game-a-like. The use of a fictionalized nation allows you to easily ignore any overbearing political agendas. It isn't as dark as the previous efforts. But when your monster is a big moth, you don't get as much horror. Luckily, it also manages to create a more atmospheric and artistic approach. Mothra's initial hatching is juxtaposed with a beautiful and rather trippy song. A tale of, once again, man's mistakes. Only this time, it's the exploitation of these mistakes that brings destruction.
Luke Baldock
Super Reviewer
Mothra Quotes
There are no approved quotes yet for this movie.