Mothra vs. Godzilla (Mosura tai Gojira)
(1964)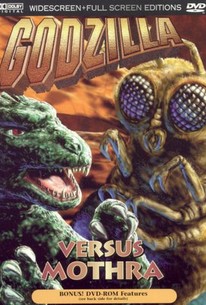 Mothra vs. Godzilla (Mosura tai Gojira) Photos
Movie Info
In this Japanese sci-fi fantasy, the gigantic lepidopteran Mothra returns after battling it out with King Kong. Now he has become the god of a remote island. He is administered to by the tiny twins, the Peanut Sisters. Trouble ensues when Godzilla appears and the Peanuts attempt to invoke their deity to save the island. The elderly moth attempts to stop the great reptile, but Godzilla and in a blaze of fiery breath, destroys the enormous insect. Later, a giant Mothra egg being exhibited at a traveling circus, hatches and two larval Mothras begin encasing Godzilla in a sticky cocoon to avenge their parent's death.
Critic Reviews for Mothra vs. Godzilla (Mosura tai Gojira)
Audience Reviews for Mothra vs. Godzilla (Mosura tai Gojira)
This one is considered one of the best Godzilla movies out there, but with that aside, I've been wanting to see this movie, and after finally getting around to watching it, it's actually pretty good. I mean, it's not extraordinary, but it's still worth watching. But now on with the plot: long story short, Mothra's egg washes on the beach and some corporate businessman wants to buy the egg just so he can put it up as an attraction in his amusement park. Two twin faeries show up and warn him to have the egg returned, but he ignores them and even tries to capture them. In the meantime, a news reporter, news photographer, and professor also find out about it and are determined to help the faeries and Mothra before anything bad happens to the egg. Later, Godzilla naturally comes along and interferes, leading to a serious grudge war between the two title monsters. My thoughts/defenses on this movie: okay, so the monster battles aren't great, but they're certainly not disappointing at all. In fact, the idea of Mothra against Godzilla apparently did sound like a step in the right direction for Toho, in my opinion. Yes, I know Godzilla is such a klutz in this movie, aside from the fact that his mouth is kinda wobbly in this one, but we certainly can't blame him 'cause the guy in the Godzilla costume can't see a thing. Okay, so the ending isn't very climactic, but it still leaves you with a good feeling. In conclusion, this is one Godzilla movie that I think that all Godzilla fans should give a try/give a chance 5 STars 10-13-13
Bruce Bruce
Super Reviewer
½
Godzilla VS Mothra is a step above its previous entry, which lacked a bit despite its interesting idea of having King Kong battle Godzilla. A lot of the film doesn't make sense, but what do you expect from a Japanese monster film? However, the plot is much more interesting this time around, and it improves on points where the last one needed some touch ups. The performances are pretty good; however it's the monsters that steal the show as usual. This is a very entertaining film from start to finish, and a definite must see for genre fans. I thoroughly enjoyed the film and it is a standout film despite its imperfections. The special effects are quite good, and the battle between Mothra and Godzilla is quite exciting as well. Monster films are sheer mindless fun, and this entry certainly provides that in spades. This is an improvement over the last entry, and it should certainly appeal to genre fans looking for a good time. But like every other film that has come before aside from the original, the acting is good, but never great either. In the end who cares? The monsters are the stars of the film and they certainly deliver the thrills that you expect. Although far from perfect, this is an amusing ride, one worth taking. If you love these types of films, don't pass up on this one, you won't regret the sheer mindless nature of it all. Be prepared to be entertained by two awesome monsters battling it out and have fun. Don't expect a masterpiece with this one, but you'll most likely come out of this one as thinking that this is a fine little monster picture that deserves to be among the most memorable of the genre.
Fans and critics alike regards this movie as one of the best Godzilla entries, and it is easy to see why. It is very colorful, the special effects are top-notch for these kinds of films, and the story is quiet unique. The film manages to have the right balance of comedy and drama, with human characters that the audience does not mind spending time with. This is Mothra's second feature film, who previously starred in her own film, while this is Godzilla's fourth appearance. The film also contains probably the best Godzilla suit next to the 1954 original. At first it seems the fight between Godzilla and Mothra would not be much of a struggle, but surprisingly, it is one of the best fights of the series. I do not want to give anything away, but the way Mothra defeats Godzilla is both surprising and clever. This would be the last entry to feature Godzilla as a bad guy for an entire film until "Godzilla 1985", afterwards Toho would slowly transform Godzilla into a hero. Definitely one of my favorite Godzilla movies.
Christopher Heim
Super Reviewer
Mothra vs. Godzilla (Mosura tai Gojira) Quotes
| | |
| --- | --- |
| Newspaper Editor: | That's it, you're a genius! |
| Second Reporter: | That's what I thought. Hey, should I get a raise? |
| | |
| --- | --- |
| Girl Photographer: | You're crazy if you don't go. Godzilla will kill you. |
| Second Reporter: | Well I'm not as afraid of Godzilla as I am of the editor. He's meaner. |
| | |
| --- | --- |
| News Reporter: | Look over there! Why aren't you getting pictures Junko? |
| Girl Photographer: | I'm not sure where to start. |
| News Reporter: | I want to capture this. Listen, my articles are not enough. And I must have photographs to go with them. And I want them today! |