Motorama
(1992)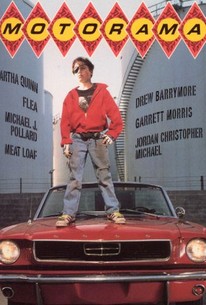 Movie Info
This allegorical comedy from scriptwriter Joe Minion (After Hours, Vampire's Kiss) offers a unique twist on the standard road movie formula. It tells the story of a young boy named Gus who grows sick and tired of parental squabbles and decides to steal his dad's red Mustang and hit the highway on a cross-country journey. The country presented in this film, however, is not the U.S., but a fictional land with states such as Bergen and Essex - a land with parallels to a giant board game. While on the road, Gus spots a billboard inviting him to play the "Motorama" game, a promotional effort by a major gas station that promises winners $500 million dollars. In order to win, one simply has to collect enough game cards from Chimera gas stations all over the country to spell out the word "Motorama." As Gus approaches his goal of collecting all eight letters, he has assorted adventures, many of them strange and a few that are distinctly unpleasant. The film features cameos from several notable cult favorites, including character players Jack Nance and Dick Miller, actress Drew Barrymore, and even the pop singer Meat Loaf.
Critic Reviews for Motorama
Audience Reviews for Motorama
½
Motorama is a quirky, surreal, dark comedy adventure. I would have said it is a B movie, but it has so many recognizable faces from that era and (on closer look) the outdoor staging and props are often very nice and give the film a distinctive dreamlike quality. One gets the feeling that the people making it wanted to be making it. Many other movies came to mind while watching this: Repo Man, Naked Lunch, various Coen Brothers films. (And on a repeat view, the fiendish twinge of the comedy in Motorama also calls to mind the MASH movie.) If you enjoy the kind of weirdness which you can choose to make sense of or not, then give Motorama a view.
Robert Brogan
Super Reviewer
½
This movie have nothing to do with Drew Barrymore's character. This movie is one massive hemeriod, of trying-to-be deep, coming of age and loss of innocene.
Steven Vincent Gee
Super Reviewer
Motorama Quotes
There are no approved quotes yet for this movie.