Mountains of the Moon
(1990)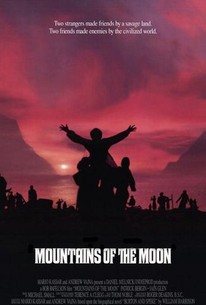 Movie Info
Director Bob Rafelson fulfilled a lifelong dream when he finally received backing to complete Mountains of the Moon. The film recreates the exploratory adventures of 19th century visionaries Sir Richard Burton (Patrick Bergin) and John Henning Speke (Iain Glen). The heart of the film is the effort by Burton and Speke to discover the true source of the Nile river. This occurs well into the film, after several torturous scenes involving the injuries sustained by the protagonists during other expeditions and their growing friendship (which, the film intimates, goes far beyond friendship). Rafaelson's fascination with this story, and his insistence upon painstaking historical accuracy, unfortunately compromises his ability to make an interesting film. There are so many starts and stops during the first half that we sincerely hope Burton and Speke will chuck it all and set up a pub in Bristol or something. What saves Mountains of the Moon is the rapport between its stars and the brilliant, epic-like cinematography of Roger Deakins.
Critic Reviews for Mountains of the Moon
Audience Reviews for Mountains of the Moon
½
This is an excellent movie that portrays Capt. Sir Richard Francis Burton and his mate, John Hanning Speke's travels to find the source of the Nile, and travails to claim the right to say that either of these two gentlemen adventurers discovered the source of the Nile makes for one of the biggest and best EPIC adventure films in recent memory.. This is a movie That should be watched more then once and you wouldn't get bored. 4 1/2 stars
Bruce Bruce
Super Reviewer
Anthony Valletta
Super Reviewer
Mountains of the Moon Quotes
There are no approved quotes yet for this movie.