Mouse Hunt
(1997)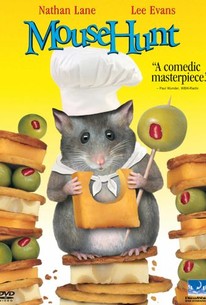 Movie Info
Nathan Lane and Lee Evans do a fair impression of Laurel and Hardy in this darkly comic, and too often shrill, ÒHome AloneÓ knockoff about two brothersÕ inept attempts to kill a wily mouse inhabiting their inherited mansion.
Critic Reviews for Mouse Hunt
Audience Reviews for Mouse Hunt
Mediocre comedy that is slow with bad effects, Mouse Hunt simply doesn't have anything good going for it. The film was funny when first released, however it's not one of those films that has stood the test of time, and quite frankly got sillier with every viewing. I didn't enjoy the film, and I thought it was a poorly made comedy with little to no humor. One thing that made this film pretty boring was the fact that it took a while for anything funny to happen. The build up is slow, and you lose interest after a while. I found the cast to be tiresome and not too good in their performances. This is not Gore Verbinski's best film and he made better films than this. This is a comedy that simply doesn't stand out, and it's not one that delivers laughs time and time again. The film could have really great, but after seeing it once, it was enough. The problem with this film is that it's not a memorable comedy. There's nothing that stands out and like I said, it takes a while for the story to unfold. This could have been a great comedy, but it fails, and as far as family films are concerned, there are much better films out there to enjoy than this. I think this film had the potential in being a great film, but it simply doesn't deliver anything good for the entire family. If you're looking for a great family comedy watch Toy Story or The Sandlot instead, Mouse Hunt simply is an empty shell of a film, a film that leaves a lot to be desired. This is a mediocre film that has a few laughs here and there, but is never anything consistent to truly make it worth watching. The films biggest flaw is that it takes too long to get to the point and there's no real payoff. Not worth watching.
½
A always love this film when I was a child... now is just another silly, but some times clever movie that looks like a Bugs Bunny cartoon. Rotten.
Lucas Martins
Super Reviewer
This movie will please young kids with its stupid cat and mouse slapstick humor, but others will not find it funny.
Mouse Hunt Quotes
| | |
| --- | --- |
| Ernie Smuntz: | I don't think we're dealing with an ordinary mouse... |
| | |
| --- | --- |
| Caesar: | What's tha-? Horse! Fiendish! I won't eat it! |