The Mouse on the Moon
(1963)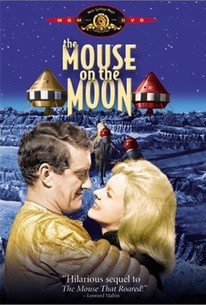 The Mouse on the Moon Photos
Movie Info
From Richard Lester, the director of 1980's Superman II and the 1964 A Hard Day's Night, comes this less-successful sequel to the The Mouse that Roared. The Prime Minister of the Duchy of Grand Fenwick (Ron Moody) is in a bind because he has no money to renovate his castle and there is a serious problem with his small country's main export, wine. The stuff tends to explode. So the Prime Minister asks the U.S. for aid to develop space research, knowing full well they are not going to give him money to remodel his castle. Once the U.S. grants a cool million to the country, Russia adds in a used rocket, and things start popping. Like it or not, the Duchy is suddenly involved in space research and contributing to the madness is the discovery that its unique wine makes good rocket fuel. ~ Eleanor Mannikka, Rovi
Critic Reviews for The Mouse on the Moon
Audience Reviews for The Mouse on the Moon
½
No Peter Sellers in this sequel to The Mouse That Roared so they're already fighting an uphill battle, but still managing to produce a pleasing return to the Duchy of Grand Fenwick. This time the 5x3 mile principality enters the space race with foreign aid money from the United States, procured by the crooked Prime Minister wonderfully played by Ron Moody who intends to use the funds to install indoor plumbing in the royal castle! But his starry-eyed son and the head scientist have other plans for the rocket donated by the Soviet Union, who have to appear equal to the Americans in generosity. Playful political humor satirizes the superpowers' preoccupation to conquer space, and this English production enjoys poking fun at it's own country's impotence in the matter. There's a completely useless romantic subplot and the sight gags dry up after an hour, but overall the film achieves successful reentry.
Doctor Strangeblog
Super Reviewer
The Mouse on the Moon Quotes
There are no approved quotes yet for this movie.