Mowgli: Legend of the Jungle
(2018)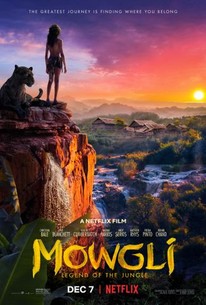 TOMATOMETER
AUDIENCE SCORE
Critic Consensus: Mowgli: Legend of the Jungle brings impressive special effects to bear on the darker side of its classic source material, but loses track of the story's heart along the way.
Mowgli: Legend of the Jungle Videos
Mowgli: Legend of the Jungle Photos
Movie Info
Acclaimed actor and director Andy Serkis reinvents Rudyard Kipling's beloved masterpiece, in which a boy torn between two worlds accepts his destiny and becomes a legend. Mowgli (Rohan Chand) has never truly belonged in either the wilds of the jungle or the civilized world of man. Now he must navigate the inherent dangers of each on a journey to discover where he truly belongs. Christian Bale, Cate Blanchett, Benedict Cumberbatch, Andy Serkis, Freida Pinto, Rohan Chand, Matthew Rhys and Naomie Harris lead an all-star cast in this visually spectacular and emotionally moving adventure.
News & Interviews for Mowgli: Legend of the Jungle
Critic Reviews for Mowgli: Legend of the Jungle
Audience Reviews for Mowgli: Legend of the Jungle
½
Sometimes second place might as well be last place in the film industry. Pity Andy Serkis and the years he spent making a live-action, mo-cap enhanced version of The Jungle Book only for Disney to scoop him years in advance and deliver a billion-dollar hit. It's impossible not to compare the two and unfortunately Serkis' passion project is found wanting in many areas. For starters, there's far less Shere Khan (voiced by Benedict Cumberbatch), which is a shame. He's really only in the film for very little. I think Cate Blanchett is miscast as the voice of the snake, Kaa, who acts like a grand keeper of the jungle's history and future. I'm not sold on Serkis as Baloo, a grumpy paternal figure present from the beginning that trains the wolf pups so they can join the pack. The middle half-hour Mowgli spends in the company of man with a kindly poacher also feels like the movie is spinning its wheels. It keeps the rest of the jungle on hold. There are some rather dark asides that can be quite surprising, from wolf pups plummeting to their doom, bloody scars, cute severed heads to haunt your dreams, and three separate occasions where characters will watch the light vanish from a dying animal's eye. It's definitely a more brutish, cruel, and dangerous world, but at what greater expense? The characterization doesn't add up to much. The character relationships are minimal. The CGI creatures and settings look unfinished. The whole enterprise feels rushed even though it's been on the shelf for some time, which may be why the studio was eager to sell it to Netflix for a cool $90 million. You'll watch Mowgli and nod, generally entertained, but questioning whether it's 90-million worth. Nate's Grade: C+
Nate Zoebl
Super Reviewer
I am gonna be honest. I knew after the initial moments that this would not work for me. For some odd reason this movie is trying to tell Mowgli's "real story" (I am not familiar with the source material) and yet decides to give all animated animals extremely human features. That's deep into uncanny valley and incredibly distracting. That's particularly shocking and disappointing considering this is motion capture legend Andy Serkis's film. Or was that actually the problem? It doesn't help that the idea to tell a darker and more mature version of the story makes for some highly uncomfortable scenes. Kids should definitely skip this one, I know I wished I did. It simply works on no level whatsoever and is just dire and underwhelming.
An engaging take on the old Kipling tale, helmed by Andy Serkis (of "nobody knows who I am cause I always wear so much makeup" fame), a CGI-rendered jungle extravaganza. Fun. Try and guess the voices behind the animations.
Kevin M. Williams
Super Reviewer
Mowgli: Legend of the Jungle Quotes
There are no approved quotes yet for this movie.