Mr. 3000
(2004)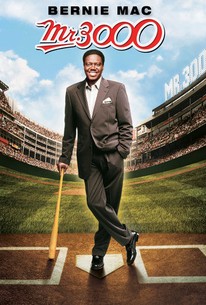 Movie Info
Directed by Charles Stone III, Mr. 3000 revolves around over-the-hill baseball star Stan Ross (Bernie Mac), who retired after making what he thought was his 3,000th base hit for the Milwaukee Brewers (i.e. the exact amount of hits it takes to qualify for the Hall of Fame). Though he shocked his teammates by quitting in the middle of the game, certain that his Hall of Fame position was in the bag, complications arise when he discovers that three of his hits during his ten-year career had been disqualified. Known as Mr. 3000, the 47-year-old, out-of-shape ball player returns to the game intending to stay only as long as it takes to get the hits he needs, but something unexpected happens along the way -- he rediscovers his love for the game, and begins to serve as a mentor to one of the younger players. Mr. 3000 features Angela Bassett, Paul Sorvino, Michael Rispoli, and Evan Jones in supporting roles.
Critic Reviews for Mr. 3000
Audience Reviews for Mr. 3000
½
Essentially a "Major League" "rethinking" (meaning they blatantly stole the plot), with the story emphasis concentrated mainly on the old timer's personal redemption. That being said, its a pretty good sports movie, Bernie Mac literally astounding as the big cheesy ham in love with himself who learns better. Definitely a keeper with great character performances soundly backing up Bernie's play.
Kevin M. Williams
Super Reviewer
As far as baseball comedies are concerned, Mr. 3000 is nothing compared to the likes of Major League or The Sandlot but is nonetheless a worthwhile film to watch due to good on-screen presence by lead actor Bernie Mac. The comedy is good here, but at times there are parts where the comedy could have been improved upon. The film manages to overcome its flaws by its good story and well balanced cast that just light up the screen. Now this isn't a perfect comedy, but it is definitely better than many other films in the genre, and it is better than the Benchwarmers and the Sandlot sequels. Bernie Mac is good here and is perfect for the role that he plays. The film has a good mix of comedy into its plot, but like I've said, some parts it lacks a bit and there was room for improvement. The film is worth seeing if you love the sport or a well acted comedy with heart. The film is entertaining from start to finish due to its plot and effective cast. If you want mindless entertainment, this is a perfect film to watch. Although the comedy is at times slow, Bernie Mac is fun to watch and he is perfect in his performance. If the film would have been rewritten and the jokes would have been reworked slightly, then this would truly have been a memorable comedy. As it stands, it's a good comedy, but one that had the potential of being a much better film. But Mr. 3000 is not a bad film, and it is quite good and is quite frankly underrated. Give it a shot; you might enjoy it for what it's worth.
"Bernie Mac is perfectly cast in Mr. 3000" thats like saying Paris Hilton was perfectly cast in 'the simple life'
Coxxie Mild Sauce
Super Reviewer
Mr. 3000 Quotes
There are no approved quotes yet for this movie.