Mr. & Mrs. Smith
(2005)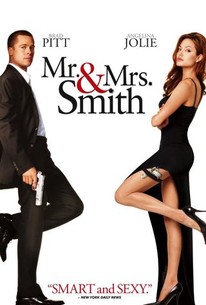 TOMATOMETER
AUDIENCE SCORE
Critic Consensus: Although this action-romance suffers from weak writing and one too many explosions, the chemistry generated by onscreen couple Pitt and Jolie is palpable enough to make this a thoroughly enjoyable summer action flick.
Movie Info
John and Jane Smith are an ordinary suburban couple with an ordinary, lifeless suburban marriage. But each of them has a secret: They are legendary assassins working for competing organizations. When the truth comes out, John and Jane end up in each other's cross-hairs.
News & Interviews for Mr. & Mrs. Smith
Critic Reviews for Mr. & Mrs. Smith
Audience Reviews for Mr. & Mrs. Smith
Loads of charisma as Brad and Angelina play assassins ala James Bond who have happened to've married each other. Lots of action shootouts interspersed with quippy dialogue exchanges by the bickering but in love couple. Fun.
Kevin M. Williams
Super Reviewer
½
This is what happens when you try to combine action and romantic comedy without any idea how. The humor is irritating and the story has no actual conclusion, finishing on a completely unsatisfying note. Still, the chemistry between Pitt and Jolie saves it from being a disaster.
Carlos Magalhães
Super Reviewer
½
If you're curious about the film that broke up the biggest power couple of the nineties, then veer from this film. There may be one or two passionate embraces, but for the most part, this is a dispassionate and contrived film. The two lovebirds play a married couple in this film, though it's debatable about how well their chemistry works onscreen. Between the cluttered script, the lack of comedy, and the banal sex scenes that pile up whenever and wherever, this film faces a plethora of problems. It's trying to be a lot of different things and always seems to fail at what it's trying to be. This can be easily figured by the fact that the script was handled by several dozen people, and that many cooks in the kitchen isn't going to yield a good result. Most of the time it's trying to be a spy thriller, or at least I think that's what it's trying to accomplish with its implausible and invisible villains and over the top shootouts. Most of the time these scenes are underwhelming or simply staged incorrectly. This could be forgiven if there was a sufficient balance of action and comedy. The comedic sidekick to Brad Pitt's character is Vince Vaughan, who doesn't do anything but gibber away in the background and yell at his disembodied mother. Not even the premise seems to be clever, because there barely is one. The married couple take forever to figure out each other's secret, and the audience isn't even aware of it until twenty minutes in. Their squabbling is mostly pretty adolescence except for one huge fight scene that does lend to creative instincts. The ending is one big "screw you" to the audience, as there isn't even a climax to contend with. The only thing ending the film is a running joke, which certainly isn't funny at the very end. It's just sickening to watch something so shoddily put together, and which obviously made a lot of money thanks to people's curiosity about Brangelina.
Spencer S.
Super Reviewer
Mr. & Mrs. Smith Quotes
| | |
| --- | --- |
| John Smith: | I was married before this. |
| Jane Smith: | What's her name and social security number? |
| John Smith: | You're not going to kill her. |
| | |
| --- | --- |
| John Smith: | Your aim is almost as bad you're cooking, sweetheart. |
| | |
| --- | --- |
| Jane Smith: | Happy endings are just stories that haven't finished yet. |
| | |
| --- | --- |
| John Smith: | Come on, honey. Come to daddy. |
| Jane Smith: | Who's your daddy now? |