Mr. Bean's Holiday
(2007)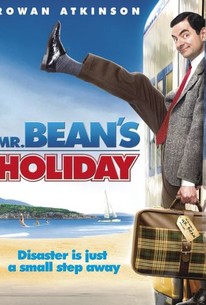 TOMATOMETER
AUDIENCE SCORE
Critic Consensus: Mr. Bean's Holiday means well, but good intentions can't withstand the 90 minutes of monotonous slapstick and tired, obvious gags.
Mr. Bean's Holiday Videos
Mr. Bean's Holiday Photos
Movie Info
Mr. Bean wins a trip to Cannes where he unwittingly separates a young boy from his father and must help the two come back together. On the way he discovers France, bicycling, and true love, among other things.
News & Interviews for Mr. Bean's Holiday
Critic Reviews for Mr. Bean's Holiday
Audience Reviews for Mr. Bean's Holiday
½
Our hero gets the chance to tour France for a bit, and that ain't too bad, put like that. There are invariable complications, some meant to be humorous, meant to remind us of the ineffable M. Hulot's Holiday (which, compared to this, is the difference between building blocks and Legos). That will depend entirety on your age mainly. As for myself, my largest involvement came as sorrow for perpetual bad guy Willem Dafoe having to endure this lame-o attempt at whimsy.
Kevin M. Williams
Super Reviewer
½
Mr. Bean's Holiday, is much more better that the last movie of the title character. But, dispite the good intentions of this sequel, with the old gags of Mr. Bean, the picture became too obvious and the audience, looks like that, just had already saw all that in the television.
Lucas Martins
Super Reviewer
½
Decent sequel to Bean, this is a modest comedic affair with mild laughs, but the material is more strained this time around to try and create a comedy that is both memorable and fun. Mr. Bean's Holiday is a decent comedy with a few good laughs, however with nearly every sequel it fails to deliver something that is very memorable and above all worth it. The material here is decent at best, sometimes it falls flat, and Rowan Atkinson tries too hard. The film made me laugh, but I felt something was missing to make it a good sequel. As far as I'm concerned, this is a decent film that is fun, but lacks anything to really make it stand out. Mr. Bean, the character is as usual dimwitted and lots of fun and Atkinson really delivers what you'd expect from the character. But there's just something lacking in this film to make it a good enough sequel to watch. This is a fun film, but lacks anything that made the series really good. The comedic elements at times don't work. The best way I could describe the film is by saying that it's a decent comedy that is mildly entertaining. I liked the film, but they could have done a better job. The film had so much potential in being a great comedy and due to its idea of Mr. Bean on holiday, the filmmakers had so much potential in delivering a good comedy, in the end it was a decent flick, nothing special with a few laughs.
Mr. Bean's Holiday Quotes