Mr. Death: The Rise and Fall of Fred A. Leuchter, Jr.
(1999)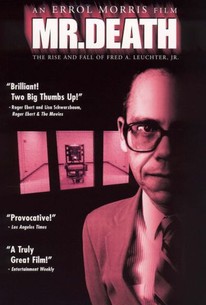 TOMATOMETER
AUDIENCE SCORE
Critic Consensus: Mr. Death outlines its subject's controversial life's work with the deeply fascinating and thought-provoking élan film fans have come to expect from director Errol Morris.
Mr. Death: The Rise and Fall of Fred A. Leuchter, Jr. Photos
Movie Info
Throughout his work, documentary filmmaker Errol Morris has sought out characters lost in their own eccentric worlds, and he has managed to convey their sense of wonder with their passion, be it a topiary gardener arguing the merits of hand shears in Fast, Cheap & Out of Control (1997) or astrophysicist Stephen Hawking discussing the origin of the universe in A Brief History of Time (1992). In his most provocative work since The Thin Blue Line (1988), Morris details what happens when this interior dreamscape collides with the hard facts of history. As a young man accompanying his father to work at a state prison, Fred A. Leuchter, a bespectacled mouse of a man, learned how inefficient and inhumane most executions were, and he set out to design and build a better electric chair. Soon he began getting offers from state institutions throughout the country to redesign their electric chairs, along with gas chambers, gallows, and lethal injection machines. He quickly became a renowned expert in capital punishment. When the notorious Nazi sympathizer Ernest Zündel was arrested in Canada, he needed an expert witness to corroborate his assertion that the Holocaust was a hoax; and Leuchter soon found himself chiseling chunks from the gas chamber walls in Auschwitz -- on his honeymoon. His illegal samples showed no significant residue of cyanide, so he concluded that the Holocaust did not happen. He soon became a celebrity of the neo-Nazi set: he testified on behalf of Zündel, gave lectures around the world, and published the Holocaust revisionist tract Leuchter Report. Much to his surprise, his death-machine business began to flounder, his marriage collapsed, and he found himself pursued by Jewish organizations and creditors. This film was screened at the 1999 Toronto Film Festival.
Critic Reviews for Mr. Death: The Rise and Fall of Fred A. Leuchter, Jr.
Audience Reviews for Mr. Death: The Rise and Fall of Fred A. Leuchter, Jr.
Wow! Great early effort by Errol Morris and we can see how his effective documentary tools were developed here. Leuchter probably gets more attention that he deserves as a result but it is a shocking look at the true nut jobs that exist in the broader world.
John Ballantine
Super Reviewer
½
Interesting study of Fred Leuchter's underwhelming career, poor judgement and antisemitic reasoning.
Randy Tippy
Super Reviewer
Amazing look at an outsider, and the choices he makes to be accepted, no matter by whom. Disturbing and sad, this is a truly great film about lonliness and what it drives people to do.
Christopher Brown
Super Reviewer
Mr. Death: The Rise and Fall of Fred A. Leuchter, Jr. Quotes
There are no approved quotes yet for this movie.