Mr. Deeds
(2002)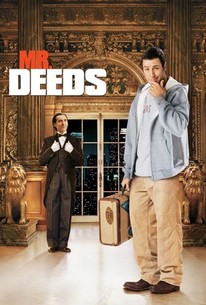 TOMATOMETER
AUDIENCE SCORE
Critic Consensus: This update of Capra doesn't hold a candle to the original, and even on its own merits, Mr. Deeds is still indifferently acted and stale.
Movie Info
One of Frank Capra's best-loved stories gets a modernized and wildly slapstick reinterpretation in this romantic comedy starring Adam Sandler. When Preston Blake (Harve Presnell), a remarkably wealthy media magnate, dies with neither a wife nor children, the question on the lips of most of his associates is who will inherit the estate. The surprising answer turns out to be Longfellow Deeds (Adam Sandler), a cheerful but half-bright proprietor of a small-town pizzeria, as well as part-time greeting card poet, who was a distant relative of Blake. In order to claim his 40-billion-dollar inheritance, Deeds heads to New York City, where Blake's former associates, Chuck Cedar (Peter Gallagher) and Cecil Anderson (Erick Avari), introduce him to the city while trying to figure out how to get their hands on his new fortune. Meanwhile, Mac McGrath (Jared Harris), the producer of a sleazy tabloid television show, wants to get the inside scoop on Deeds, and comes up with perfect way to get it: he sends beautiful but unscrupulous reporter Babe Bennett (Winona Ryder) to sweep Deeds off his feet while she's wired for sound. Convincing Deeds that she's from a small town just like himself, Bennett quickly wins his heart, but while his affection is sincere, hers is not. He also displays a curious eagerness to defend her good name with his fists which quickly gets him in trouble. Meanwhile, as Deeds becomes the new laughing stock of New York thanks to Bennett's stories, Deeds decides it's time he did something big with his money, while Cedar and Anderson think they've finally found a way to take control of Deeds' holdings. Mr. Deeds also features supporting performances from John Turturro, Steve Buscemi, and Conchata Ferrell. John McEnroe and Rev. Al Sharpton make cameo appearances as themselves. ~ Mark Deming, Rovi
Critic Reviews for Mr. Deeds
Audience Reviews for Mr. Deeds
½
[img]http://images.rottentomatoes.com/images/user/icons/icon13.gif[/img]
Directors Cat
Super Reviewer
Mr. Deeds is yet another awful Adam Sandler comedy. I saw this in the theatre when it came out, and came out disappointed. The film was terrible, unfunny garbage that just didn't deliver anything good or entertaining for the viewer. Mr. Deeds is an unfunny comedy that is simply awful to watch. The acting and comic delivery were terrible. Adam Sandler successfully made another terrible film and it just goes to show that the guy should have retired a long time ago. Mr. Deeds suffers from a bad script that doesn't deliver effective comedy or a good story for that matter. I hated this film, and thought it was a waste of film. Adam Sandler has been unfunny for quite some time, and films like Mr. Deeds showcases that point perfectly. This is a poorly made comedy that is more excruciatingly painful that funny. This is a film that never should have been made, and it's simply one comedy film that you should avoid. Adam Sandler was funny back in the 90's with films like Happy Gilmore, Big Daddy and The Wedding Singer. But now, he misses the mark more often and his use of comedy is pretty stale. Mr. Deeds is a film that definitely should be avoided, the film really doesn't work as a comedy and it ends up being a total mess from start to finish. If you want a comedy with good laughs, you won't find it here. This is a pointless film that isn't worth your time.
People tell me I place too much importance in review scores - that I like movies based on how much critics like them. That is categorically not true, and Mr. Deeds is my go-to example for that. It's a guilty pleasure to say the least - as a Sandler film, its just what you'd expect. Overly silly, not very intelligent, a little too sweet and corny, and yet somehow lovable. While all of those descriptors could be used to describe most of Adam Sandler's starring roles (Billy Madison, Waterboy, etc.), Mr. Deed's stands out because Adam Sandler doesn't play the usual moron, but rather a naive nice-guy. The script, humor, and acting may be directly aiming for "PG-13 for kids under 13," but there's something charming about the strangely earnest performances by Sandler, Jared Harris and John Turturro, not to mention some awesome cameos by Steve Buscemi and John McEnroe.
Sam Barnett
Super Reviewer
Mr. Deeds Quotes
| | |
| --- | --- |
| Chuck Cedar: | Information is good.. Now will you please stop soaking your ass. |
| | |
| --- | --- |
| Longfellow Deeds: | I got wicked bad frost bite when I was in the scouts. Check it out. |
| | |
| --- | --- |
| Jan: | I was a rodeo clown for six years. You're gonna have to step it up a notch, shorty. |
| | |
| --- | --- |
| Longfellow Deeds: | You said that you didn't know who I was, and it made me realize... I don't know who I am. So I started working on it, and here's what I've got so far: My name is Babe Bennett. I grew up in Sayasset, Long Island. I have brown eyes and I don't know what my natural hair colour is anymore. When I was in fifth grade, I got a crush on Walter Kronkite, and... and I really did have that Holly Hobby notebook I was telling you about. I love Bruce Springsteen, Allman Roka and Abbott and Costello movies. I don't like liquorice, or my ankles. Most importantly, I know that I messed up real bad, and I'd be willing to spend the rest of my life begging you to give me another chance, because I am so deeply in love with you, and I know that it's definitely that forever kind of love that... |
| Longfellow Deeds: | You said that you didn't know who I was and it made me realize, I don't know who I am. So I started working on it and here's what I've got so far; My name is Babe Bennett. I grew up in Sayasset, Long Island. I have brown eyes and I don't know what my natural hair color is anymore. When I was in fifth grade, I got a crush on Walter Kronkite and I really did have that Holly Hobby notebook I was telling you about. I love Bruce Springsteen, Allman Roka. and Abbott and Costello movies. I don't like liquorice or my ankles. Most importantly, I know that I messed up real bad and I'd be willing to spend the rest of my life begging you to give me another chance because I am so deeply in love with you and I know that it's definitely that forever kind of love. |
| Longfellow Deeds: | You're crazy. You have beautiful ankles. |