Mr. Jealousy
(1998)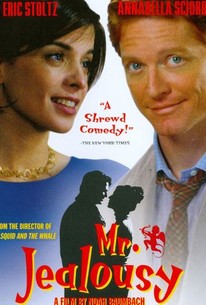 Movie Info
An urbane screwball comedy for the '90s, Mr. Jealousy, the sophomore effort from director Noah Baumbach (Kicking and Screaming), is filled with numerous obscure references to famous films that will delight film buffs. The story concerns Lester (Eric Stoltz), an ex-television news producer and sometime substitute teacher, who seems to be just wandering through life. He also can't seem to connect with the right woman. Opportunities on both fronts finally knock when he gets an offer teaching writing in the Iowa University graduate writing program and through his pals Lucretia (Marianne Jean-Baptiste) and Vince (Carlos Jacott) meets Ramona (Annabella Sciorra), a strong-willed but loopy girl. She and Lester really click, and it looks as though he has finally found his dream girl. Only one thing prevents them from sailing off into the sunset of relationship bliss -- Lester is insanely jealous of her last boyfriend, Dashiell (Chris Eigeman), a haughty best-selling author; the other 25 don't bother him a bit.
News & Interviews for Mr. Jealousy
Critic Reviews for Mr. Jealousy
Audience Reviews for Mr. Jealousy
Yeeeeah not so much Noah. Not so much. I'm not liking you here very much.
John Ballantine
Super Reviewer
This is a chick flick, don't get me wrong I have watch many a chick flick and enjoyed a number of them, but this one is from the bottom of the bucket. 1 star is all I'll give it.
Bruce Bruce
Super Reviewer
Eh... it was okay to watch. Not on the To-See-Again list though.
Leigh Ryan
Super Reviewer
Mr. Jealousy Quotes
There are no approved quotes yet for this movie.