Mr. Magoo
(1997)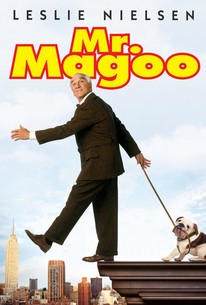 TOMATOMETER
AUDIENCE SCORE
Critic Consensus: Leslie Nielsen's affability can't save this dunderheaded update of Mr. Magoo, which delivers a stream of slapstick gags so lame that audiences will feel like they've stepped on a rake.
Movie Info
This live-action comedy adaptation of UPA's bumbling near-sighted animated character stars Leslie Nielsen. Magoo is a millionaire who refuses to admit that he needs glasses. After accidentally becoming the target in an international manhunt, Magoo continually escapes mishaps by inches.
News & Interviews for Mr. Magoo
Critic Reviews for Mr. Magoo
Audience Reviews for Mr. Magoo
I saw this one it originally came out, and thought it was a very bad film that didn't have anything going for it. This is one of Leslie Nielson's worst films, and it is an awful train wreck of a film with bad, stupid humor. This film is a total waste of time and it has absolutely no redeeming qualities about it. This is a stupid film from start to finish, one that really has no good comedic elements. This is sloppy filmmaking, and you can see that the end result wasn't too important for the filmmakers. I hated this film so much, and if you have the misfortune of seeing, it's one of those films that you wish you'd forget about. The film awful and with a poor script and poor performances, it fails at being a memorable comedy. The film should never have been made, and it falls flat more often than succeeds. This is a dreadful film definitely not worth your time. Considering that Nielson was in this, you'd think it would be funny. Unfortunately this is his worst performance ever, and it is a pointless comedy that just isn't funny. This film was bad, and had nothing going for it. With a poor script, poor acting and poor directing, this is one of the worst comedies that you could watch. Avoid this and watch something actually funny instead. Mr. Magoo is not a film worth watching, and it should be avoided. Watching paint dry was funnier than this film, and it is still to this day one of the worst comedies that I've seen, simply awful.
I haven't ever watched the cartoon of Mr. Magoo, but I always heard what it was about. I don't know why, but when I heard about Leslie Nielsen (one of the best comedy actors there is) starring in "Mr. Magoo," I wanted to see it. Mr. Magoo is a VERY visually impaired and wealthy man. He unfortunately gets involved in the middle of a plot that deals with thieves stealing extremely valuable jewels. Whether Mr. Magoo successfully gets out of the middle of the action or not, one thing's for sure, he sure needs a new eye doctor. Unlike what I've read from some of the other reviews, I didn't think that Leslie Nielsen did a bad job at all in "Mr. Magoo." I do agree that the movie seems generic and that it is somewhat pointless, but I still moderately liked it. Mr. Magoo isn't trying to be funny, but he is, since he is nearly blind. You will see him do such things such as go fishing and catch a man, but think that he has a lunker of a fish, take what he thinks is a skiing detour, but that is actually the edge of a cliff, and a lot more. I thought Leslie Nielsen did a great job of acting like he was nearly blind, and the rest of the people in the film did ok, but not great, with the exception of the dog, who was brilliant. As for the movie itself, "Mr. Magoo" isn't one of the best comedies and it's not one of the funniest, but I did think parts were hilarious. But there were also many parts that tried to be funny, that didn't even make me grin. All in all, it's a mixed bag of laughs and failed grins. If you're a fan of comedy movies and Leslie Nielsen films, I would recommend renting "Mr. Magoo" before buying it. NOTE: That was my Amazon review from the year 2001.
Jason Owens
Super Reviewer
Leslie plays a millionaire who unwittingly defeats jewel smugglers.
Candy Rose
Super Reviewer
Mr. Magoo Quotes
| | |
| --- | --- |
| Agent Chuck Stupak: | It's Luanne Leseur, the Black Widow. She kills all of her male accomplices. No one has ever been able to finger her. |
| | |
| --- | --- |
| Mr. Magoo: | [talking to a bush who looks like his secretary] Goodnight Mrs. Winterbottom!.....ugliest hair-do I've ever seen...... |
| Mr. Magoo: | [talking to a bush who looks like his secretary] Goodnight Mrs. Winterbottom!... ugliest hair-do I've ever seen. |
| | |
| --- | --- |
| Mr. Magoo: | Ugliest child I've ever seen! |