Mr. Mom
(1983)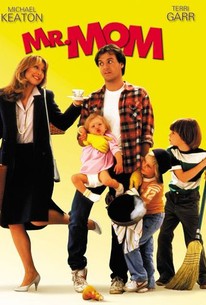 Movie Info
Jack and Caroline Butler are perfectly happy with their roles in life until a layoff makes him a househusband and her a working wife! And while she wrangles with charts, graphs and an all-too-eager-to-be-wrangled boss, he has to contend with their hyper kids, a ravenous vacuum cleaner, an angry washing machine and an oversexed neighbor! From late nights in the boardroom to lonely nights in the bedroom, the biggest challenge for both Jack and Caroline is learning to trust one another with their reversed roles which they'd better do quickly before Mr. Mom becomes Mr. Single Mom!
News & Interviews for Mr. Mom
Critic Reviews for Mr. Mom
Audience Reviews for Mr. Mom
A cute and funny family film with two great comedy actors: Keaton and Garr. I really liked this movie.
Fun if you catch it on cable, but I wouldn't go out and rent it.
Tim Salmons
Super Reviewer
½
(some spoilers) John Hughes certainly helped personify the 1980s as writer and director! Although he didn't direct 'Mr. Mom', he hasn't directed a film in 14 years, which coincides when his writing in the 90s has seen him represent less iconic films and straight-to-video sequels. He wrote Mr. Mom, and although, not as significant or funny as 'The Breakfast Club' or 'Ferris Bueller's Day Off', it still represented a reasonably popular and somewhat iconic film on the gender role in the 1980s. Michael Keaton plays Jack Butler, hard-working father of three children, who finds himself in a pickle when he and his colleagues are fired from his manufacturing car company. His wife, Caroline (Teri Garr), manages to get a job in advertising, and the roles are reversed so to speak. Nowadays, we might frown upon this being the premise for a comedy, but back in 1983, attitudes were different. Anyway, Jack finds himself learning the ropes of being the stay-at-home dad, while Caroline begins to excel selling tuna as her new boss Ron (Martin Mull from "Roseanne") begins to take more than liking! Jack finds goes from clueless Dad to successful parent, all the while avoiding the affections of a would-be lover, and trying to get his wife to remember the little things she misses while wrapped in work. He learns that pride in himself, and his family values are what's important, and not selling himself short to get a job back. Meanwhile, Caroline gets caught up in her work in more ways than one. This early 80s comedy is quite funny, even though some stereotypes may not be accepted now. I'm sure most guys know how to shop for groceries without wrecking the store, however "clean up in isle?" was quite funny! And, of course, the whole letting yourself go in the unemployment rut and getting caught up in soap operas was also quite funny. Keaton does well with or without a beard, and Teri Garr was quite funny too. Christopher Lloyd is briefly in this movie, and Jeffrey Tambor is good as the disloyal employer. This is reasonably well directed and is Stan Dragoti's most popular film, but it's the writing and humorous commentary on social changes and gender roles that makes this film a winner, particular because John Hughes had a gift for writing good scripts in the 80s (I have no idea what happened in the 90s). And, most people see this as a John Hughes film, although he didn't direct it- but I guess it has his trademark. 'Mr. Mom' wouldn't work as well now in my opinion, although many gender-issue comedies have been made since. However, the workforce is no longer just a man's world, and vice versa. Still, 20 years ago, this film is pretty funny!
Cassandra Maples
Super Reviewer