Mr. Sardonicus
(1961)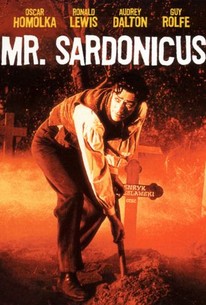 Movie Info
In this 1961 William Castle film based on Ray Russell's novel Sardonicus, Guy Rolfe stars as the wicked Sardonicus, a wealthy count who wears a mask because his face is frozen in a horrifying death grimace. Ronald Lewis stars as Sir Robert Cargrave, a brilliant doctor who is at the top of his field in the early 20th century. A curious letter from his former love, Maude (Audrey Dalton), draws him to Europe where she lives in a remote castle with her brooding husband, his badly scarred, but dedicated man-servant, Krull (Oscar Homolka), and a frightened housekeeper whom Sir Robert finds tied up and covered with leeches. The good doctor soon discovers the truth behind the leeches...and the true nature of his visit when Sardonicus reveals his terrible story: He dug up his father's grave in search of a winning lottery ticket, and upon seeing the corpse, his face muscles froze leaving him looking like a living skull. Dangling Maude as his ransom, Sardonicus forces Sir Robert into attempting a radical treatment to make his face normal again, but even when it is a success, the evil Sardonicus can find no cure from the curse of his father's desecrated corpse. Castle appears in the climax to offer viewers an opportunity to afford additional punishment on Sardonicus which leads to a satisfying conclusion.
Critic Reviews for Mr. Sardonicus
Audience Reviews for Mr. Sardonicus
Another Film from the William Castle Movie collection. Once ago not a scary movie by today's standards, but might have been when made. Story about a doctor who is called to remove the smile that is stuck on Mr. Sardonicus face that appeared when he dug up the coffin of his late father to recover a winning lottery ticket. Just a good old drive in second feature film. 3 Stars
Bruce Bruce
Super Reviewer
Again Castle brings us a gimmicky little horror movie, in this one the audience "votes" for the bad guy's fate in the end, which was pretty funny. The story itself, though is more ridiculous than the Tingler, and entirely predictable. This isn't his best work, but it's okay.
½
Another clever gimmick film from William Castle, Mr. Sardonicus is very much an audience film. It's not about scaring the audiences with electric shocks or skeletons flying over their heads, but more about their participation. Of course, seeing the film today, the participation factor doesn't really exist. As for the movie itself, I wouldn't call it one of Castle's best, but it's certainly interesting and bizarre.
Tim Salmons
Super Reviewer
Mr. Sardonicus Quotes
There are no approved quotes yet for this movie.