Mr. Vampire
(1985)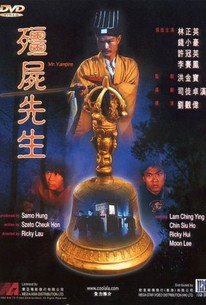 Movie Info
This Hong Kong-produced black comedy was originally released as Mr. Vampire, back when a sequel was far from anyone's thoughts. The blood-suckers depicted herein are just as dedicated to "inviting" others to join them in the netherworld as their Transylvanian counterparts. It's just that they honor a different protocol. Instead of fearing crucifixes and stakes, the oriental vampires live in mortal terror of coagulated rice. Oh, and they do indulge in kung-fu warfare from time to time. It's that kind of picture.
Critic Reviews for Mr. Vampire
Audience Reviews for Mr. Vampire
Not our average vampire movie. The title is a little misleading as well since the main character is not the vampire, and there are ghosts in the movie as well as vampires. Having said that, this is a fun, humorous, and somewhat creepy horror flick. A wonderful combination of action, comedy and horror genres. Plus if you don't know a lot about Asian culture, you get to see how they deal with the supernatural. A good movie, I recommend it.
½
There are great fight sequences and a great story and acting. The martial-arts scenes are the best parts of the movie, but the horror-comedy sequences are still entertaining about the master has to stop the vampires and demons. Anyone interested in kung-fu movies should check this out for Siu-hou Chin's performance alone. The guy is incredible, and puts on some great fights.
Dean McKenna
Super Reviewer
½
Extemely silly chop-socky fun featuring incompetent monks battling hopping chinese vampires. Yet another film Quentin Tarantino "borrowed" from in his script for From Dusk Til Dawn
Mr. Vampire Quotes
There are no approved quotes yet for this movie.