Mr. Wrong
(1996)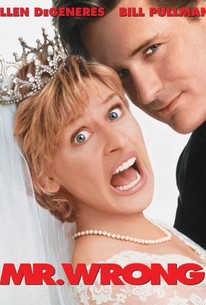 TOMATOMETER
AUDIENCE SCORE
Critic Consensus: A mean-spirited joke without a punchline, Mr. Wrong is so painfully unfunny that Ellen DeGeneres and Bill Pullman's lack of chemistry feels like a total drag despite being the point.
Movie Info
In this black romantic comedy, television producer Martha Alston finally gives in to parental badgering and begins looking for a nice husband. When she meets Whitman Crawford, he seems to be her dream man. However, when she meets Whit's mother and his crazy ex-girlfriend, Martha begins to have second thoughts.
Critic Reviews for Mr. Wrong
Audience Reviews for Mr. Wrong
½
Mr. Wrong, like a few other choice movies I've reviewed, is much better than most people think, but it requires you to suspend your cynicism for the entire movie. To be fair, this isn't a great movie. However, Ellen is funny and feels either miscast or just awkward, which is endearing. Her wit and sarcasm are worth watching. Better still is Bill Pullman. His character is obnoxious, sincere, absurd, stupid, enthusiastic, determined and disturbed. The scenes at his mother's house are hilarious too. This is a goofy, ill-conceived movie with a plot that runs out of gas by the time Bill Pullman kidnaps Ellen. Still, it's funny if you love Ellen, funnier if you enjoy Bill Pullman, and is probably the BEST movie ever to get a single digit Rotten Tomato score. So there's that.
Mark Harper
Super Reviewer
½
I enjoyed watching this movie. Ellen DeGeneres is a woman who seeks the perfect man to start a relationship with but when she seemingly finds Mr. Right, he turns out to be Mr. Wrong because he shows an entirely different and wacky personality. When she tries to convince all the other people about his personality changes they won't believe her. I had loads of fun watching this movie but it seemed a little cheesy at times.
Naughtia Nahazhina
Super Reviewer
Usually I don't give films such a low rating, but this was undoubtedly one of the worst films I have ever seen. Ellen held on for dear life, but between Bill Pullman's over the top performance and the terrible script, it was headed for disaster right off.
Spencer S.
Super Reviewer
Mr. Wrong Quotes
There are no approved quotes yet for this movie.