Mrs. Palfrey at the Claremont
(2005)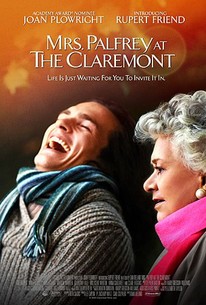 Mrs. Palfrey at the Claremont Photos
Movie Info
The story centers around an elegant elderly lady who, after being recently widowed, moves from Scotland to London to be near to her 26 year old grandson, Desmond. When Desmond fails to return any of her several phone calls, or visit her at the resident hotel she is staying, fate brings her together with a young writer, Ludovic Meyer, after she has an accident outside his basement flat.
Critic Reviews for Mrs. Palfrey at the Claremont
Audience Reviews for Mrs. Palfrey at the Claremont
A beautiful, quiet little film that definitely tugs at the heartstrings. Joan Plowright and Rupert Friend were marvelous as the unlikely friends who find joy and inspiration in each other's company. This viewer nearly wrote it off early on due to the overacting of the supporting cast, who populate the hotel. But once the main story got underway, this became a gem. Very moving tale as these two lonely people found joy and inspiration in sharing experiences and conversations.
Mark Abell
Super Reviewer
[font=Century Gothic]"Mrs. Palfrey at the Claremont" is about the widowed Sarah Palfrey(Joan Plowright) who moves into the Claremont Hotel in London in order not to be a burden to her daughter and to have some independence in her life. The hotel is close to her grandson, Desmond, who works at the archives but after several weeks, he has not called her. While on the way back from mailing a letter, Sarah trips outside of the apartment of Ludovic Meyer(Rupert Friend), a writer and busker, who cares for her injuries. And she enlists him to pretend to be her grandson...[/font] [font=Century Gothic][/font] [font=Century Gothic]While maybe not appearing to be much at first, "Mrs. Palfrey at the Claremont" is somehow touching without being maudlin. Overall, it is about the marginalization of the elderly in society, especially when their younger relatives do not make time for them.(In response, the movie gives a broader definition of family.) In addition, Sarah is more than normally out of touch with the time she is living in.(When somebody loses a person in their life, they lose a part of themselves.) Which is why she and Ludovic connect so well, since he feels so disconnected to his own time, using a manual typewriter, which I thought was a nice touch, along with being a very polite and considerate young man. [/font]
joan plowright offers an excellent perfomance as usual
Mrs. Palfrey at the Claremont Quotes
There are no approved quotes yet for this movie.