Mrs. Parker and the Vicious Circle (Mrs. Parker and the Round Table)
(1994)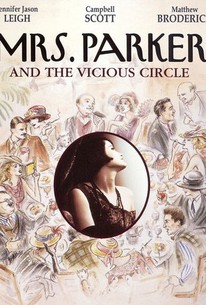 Mrs. Parker and the Vicious Circle (Mrs. Parker and the Round Table) Videos
Movie Info
The life of acclaimed writer Dorothy Parker and her involvement with the legendary Algonquin round-table is chronicled in this bio-pic. Parker was best known for her theatrical and literary reviews, her acidic poetry, and her screenplays. Her most famous screenplay, A Star is Born, is a Hollywood classic. She is the first American female critic to be taken seriously by the New York writers. She was considered the star of the round-table. The film contrasts her personal and creative lives with her social life. The two are quite disparate as in the latter she was a gay, witty, bon vivant. In the former she was wracked with insecurity and disappointment especially in her relationships. Much of the story focuses upon her platonic friendship with humorist and critic, Robert Benchely who was always there to support her after the destruction of her two marriages, and a failed love affair with newspaperman Charles MacArthur. The formation of the round table is depicted. Parker's tragic decline into a boozy old woman is also chronicled.
Critic Reviews for Mrs. Parker and the Vicious Circle (Mrs. Parker and the Round Table)
Audience Reviews for Mrs. Parker and the Vicious Circle (Mrs. Parker and the Round Table)
A unconventional biopic featuring an even more unconventional performance by Leigh. It may not give you a great sense of specific facts or details about the members of The Algonquin Round Table, but the film does capture their moods and feelings . . . filled with wit, genius, self-loathing and bitter loneliness.
Alec Barniskis
Super Reviewer
½
A movie a bout a life that really needs to be told, sadly this movie focuses on the torrid affairs like some grocery store rag and when Leigh speaks you really need subtitles which are cruelly not missing. Leigh stretches her voice so far her voice is monotone with little intonation to elude to her inner state.
Bill Cavros
Super Reviewer
½
Good enough to watch a second go.
Leigh Ryan
Super Reviewer
Mrs. Parker and the Vicious Circle (Mrs. Parker and the Round Table) Quotes
| | |
| --- | --- |
| Dorothy Parker: | Razors pain you; Rivers are damp; Acids stain you; And drugs cause cramp. Guns aren't lawful; Nooses give; Gas smells awful; You might as well live. |
| | |
| --- | --- |
| Dorothy Parker: | "What fresh hell is this?... |
| Dorothy Parker: | What fresh hell is this? |