Mrs. Winterbourne
(1996)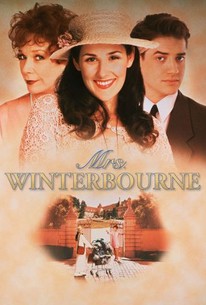 Movie Info
Actress-turned talk show diva-turned actress Ricki Lake returns to the big screen in this romantic melodrama as a luckless, pregnant small-town girl lost in New York City who boards the wrong train and ends up living a fairy tale when she is mistaken for the wife of a fabulously wealthy heir. Based on Cornell Woolrich's novel I Married a Deadman (it has been filmed twice before as No Man of Her Own, starring Barbara Stanwyck and I Married a Shadow), Mrs. Winterbourne is comparable in general tone to the far more successful Sandra Bullock vehicle While You Were Sleeping (1995). Lake plays Connie Doyle, a small-town girl with big-city aspirations. Unfortunately she isn't long in the Big Apple before she hooks up with sleazy Steve DeCunzo (Loren Dean), a soulless user who impregnates and callously dumps the destitute Connie. Anxious to leave New York, she accidentally boards a Boston-bound train and encounters charming Hugh Winterbourne (Brendan Fraser) and his pregnant wife Patricia. Connie admires Patricia's fabulous wedding ring and asks to try it on. Gracious Patricia hands it to the delighted Connie. At that moment the train crashes. Connie awakens in a hospital to discover that many died in the crash, including the Winterbournes. She is still wearing Patricia's ring and this leads her to be mistaken for Patricia, whom the wealthy clan had never met. At first she tries to set them straight, but then she realizes that this family could provide her newborn son with a privileged, cushy life that she could never give on her own and so goes to the posh Winterbourne mansion to live. There she meets the salty, ailing house matriarch, Grace Winterbourne (Shirley MacLaine), a woman who continues to smoke and drink against her doctor's wishes. A former reprobate (she had been a showgirl), Grace proves to be the only playful breeze in an stuffy, snooty family. Romance comes in the form of the late Hugh's twin brother Bill (also played by Fraser), who begins falling. Seeing that she lacks the gentility of a woman of Patricia's standing, he at first suspects her, but as time passes falls hard for good-hearted Connie's rather coarse charms.
Critic Reviews for Mrs. Winterbourne
Audience Reviews for Mrs. Winterbourne
½
Absolutely charming romance. Brendan Fraser, for once, does not deliver an absurd performance. An Shiley MacLaine is wonderful.
Christian C
Super Reviewer
Good heart-warming comedy as Ricki Lake looks so beautiful that she lost her own weight since Cry-Baby.
Dean McKenna
Super Reviewer
½
I really love this film. I dunno why. I think it's because Ricki Lake seems like someone you may actually meet. Cute story..and Shirley MacLaine owns it.
Hogans Hero
Super Reviewer
Mrs. Winterbourne Quotes
There are no approved quotes yet for this movie.