The Mudge Boy
(2003)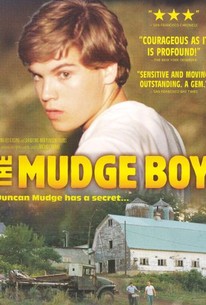 Movie Info
Writer/director Michael Burke makes his feature-length debut with the coming-of-age drama The Mudge Boy. Known as a weird kid, Duncan Mudge (Emile Hirsch) is a naïve 14-year-old farm boy with an aging father, Edgar (Richard Jenkins), and very little social life. When Duncan's mother suddenly dies, he develops a strange fascination with her clothes, speaks in her voice, and spends his time with his pet chicken. His father and the other people in the town just don't understand his behavior, while the other kids make fun of him. A drunken group of older boys call him names, but they eventually allow him to hang out with them if he provides beer money. Duncan admires one of the boys, Perry (Tom Guiry), who reveals some hidden truths about himself. As the relationship between the two deepens, it begins to take on darker, more ominous shadings. The Mudge Boy premiered at the 2003 Sundance Film Festival.
Critic Reviews for The Mudge Boy
Audience Reviews for The Mudge Boy
½
This was very disturbing, but I liked it. Emile Hirsch was great as always!
Sarah Prisbylla
Super Reviewer
A film quite unlike anything I've seen before, The Mudge Boy deserves a larger audience then it is ever likely to get, thanks to its peculiar title, cheap, 70s looking cover art and "funded by cable" credentials. But it's a stunning film.
Duncan (Emile Hirsch) is a teenager trying to come to terms with the unexpected death of his mother. An outsider who doesn't have the self-awareness to express himself adequately and without any support in friends or his emotionally unavailable father, Duncan, who helps out on the farm he lives on, cycles the countryside with his favorite chicken and begins to form relationships with some of the people he meets.
Psychologically rich and complex, realistic, beautifully photographed and stunningly performed (Emile Hirsch, Richard Jenkins and Tom Guiry are all superb), The Mudge Boy builds to a devastating conclusion that is truly shocking and difficult to watch; a brilliant depiction of teenage life, sexuality and grief in all its forms.
Nominated for the Grand Jury Prize at Sundance, winner of the Grand Jury Award at L.A. Outfest.
Daniel Parsons
Super Reviewer
The Mudge Boy Quotes
There are no approved quotes yet for this movie.