Mulan
(1998)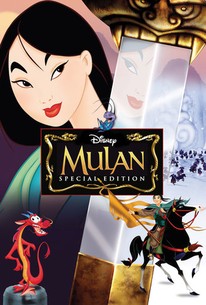 TOMATOMETER
AUDIENCE SCORE
Critic Consensus: Exploring themes of family duty and honor, Mulan breaks new ground as a Disney film, while still bringing vibrant animation and sprightly characters to the screen.
Movie Info
Disney's cross-cultural retelling of a popular Chinese folk tale about a peasant girl who disguises herself as a man and takes her ailing father's place in the emperor's army turns the traditional fairy tale ending on its head. This time, the princess rescues the prince.
Audience Reviews for Mulan
½
While I find it strange Disney would tackle a chinese style film, I find it just flat out incredible how well it is done. It is said that this film took 7 years to make making it the Disney film that had taken the longest to make and it really shows incredibly well. Mulan is a very likable character and all the side characters are all very well done comedically and are some of Disney's most memorable characters, and we all know what character we all love in this film Eddie Murphy does one of his funniest performances in this movie and Mushu is just one of those characters that I think Disney just chose a perfect actor to play this character. The two other characters that do great jobs are JAmes Hong as Shifu and Pat Morita as the Emperor, while James Hong and Morita are just basically playing themselves, lets face it, that's all we like to see them do and they do it very well. And while he is a very underdeveloped villain, I just love the character of Shan-Yu played fantastically by Miguel Ferrer. While Ferrer doesn't get many lines in this movie he takes advantage of every line just making them sound as intimidating as possible. One of the best things about this movie aside from the characters is the fantastic art style. Its just incredible to look at how well detailed many of the backgrounds are and the decision of using the chinese style spirals when a cloud of smoke comes up it looks very good and very interesting to look at. Also the music is just flat out beautiful in this film and ranging from just amazingly beautiful and slow to loud and just flat out epic
Michael Edwards
Super Reviewer
A visually wonderful animation made with gorgeous colors and a simple design in watercolor like the style of Chinese painting, and in addition to a great score it finds a most delicate balance between refreshing humor and themes like war, honor and the bravery of women.
Carlos Magalhães
Super Reviewer
Mulan is for a mediocre animated feature from Disney. I felt that the early 90's showed the studio delivering some of their strongest animated films such as Beauty and the Beast, Aladdin and The Lion King since their heyday. However, by the end of the decade, the ideas started to suffer, and I felt that the quality of film that Disney has delivered has been hit and miss. Mulan for me just didn't entertain me the way I had hoped. I felt that the heart of previous films wasn't there, and the filmmakers tried to replicate the same old formula, but to no avail. The animation here is great, and the film looks wonderful, however I felt that the story just was a clichéd affair, one that we've seen many times before, and done better as well. Mulan is a film that tries to outdo other films in Disney's catalogue, but it never delivers anything memorable to really outshine previous films in the studios catalogue. The film never goes beyond its potential, and it should have stood out among the other standout early 90's Disney films. This is standard Disney fair, and it's a formula that is overdone. With that being said, it's no wonder that Disney ventured into more live action films and computer animated features, which at least brings much more interesting ideas, concepts and storylines to a film. Mulan just came at the wrong time, and it is a film that though looks great, just doesn't have anything going for it to really make it a standout Disney feature. The film relies on an overdone formula, and one that ends up being tiresome in the long run. Stick with Beauty and the Beast and The Lion King if you want some of the best of Disney's 90's animated features.
Mulan Quotes
| | |
| --- | --- |
| Capt. Li Shang: | You...you fight good. |
| | |
| --- | --- |
| Capt. Li Shang: | A life for a life...my debt is repaid. |
| | |
| --- | --- |
| Grandmother Fa: | Who spit in her bean curd? |
| | |
| --- | --- |
| Mushu: | Did you see those Huns? They popped out of the snow, like daisies! |