Mulberry Street
(2007)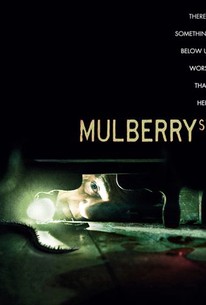 Movie Info
The city that never sleeps may shut its eyes for good when a deadly infection turns its residents to savage creatures. There is only hope for a small few, including six recently evicted tenants who must protect their crumbling apartment complex as the city around them is thrown into chaos.
Critic Reviews for Mulberry Street
Audience Reviews for Mulberry Street
½
Part of Horrorfest 8 Films to Die For. They are independent films, and you can't usually expect very high quality. This one is no exception. I half enjoyed it, though. It is filmed rather darkly, so you can't really see everything 100%. Plus, they do that shaky camera thing during some graphic, or action scenes. BUT, I love creatures, and monsters, so I sort of got a kick out of it. The ending, however, wasn't very creative...
Cynthia S.
Super Reviewer
½
From the Eight Films To Die For 2008 Collection. Not a Bad film, takes place in NYC, where rats bite people and people become rat like Zombies. Then its everyone for them selfs as if you get bitten you become one, running around jumping people and eatting there human flesh. Its not the worst one in the collection, If your a Zombie Movie collector I would add it. My understanding is that these films are made by amatures so keep that in mind when watching and reviewing these films. Its a Good one.
Bruce Bruce
Super Reviewer
½
Even though, it's 35 minutes before the plot launches into kill mode, it is obviously time well spent, as the characters feel like real people that I actually cared about. Considering that the premise is Rat-People, this is a very well written and engaging horror movie; in an age of overwhelming mediocre horror scripts, this story is refreshing, and if I were a rat, it'd be simply *the* cheese. Acting wise, the bit parts reveal some green talent, but the main cast are all pretty natural actors who maintain believable people, very hard in horror. The infected people/creatures of Mulberry Street, in terms of design and scare factor, are on par with Argento's Demons or some of Jackson's odder creatures in Braindead, and better than the rage victims of the "28 Later" series or Snyder's running zombies from 04's "Dawn" remake. I'd like to see some more rat people movies, but I just hope they're as compelling in terms of story and acting as this movie is. Talking of the image now, I love it. There is no huge focus on any particular kill or gore scene, but, for once, the editing works in conjunction well with handheld to create a sense of tension that does not require heavily calculated gore shots to scare the audience. This is a great and fun indie flick, and I hope to see more from this director.
_kelly .King
Super Reviewer
Mulberry Street Quotes
There are no approved quotes yet for this movie.